Ex-Liverpool midfielder Dietmar Hamann played under Sven-Göran Eriksson during the Swede's sole season at Manchester City, and in his autobiography, released Monday, has an amusing anecdote about the Swede.
"During our time in Thailand, he never changed his demeanour at all," Hamann recalls, in The Daily Telegraph's report. "One morning, I was on a sun-lounger by the pool when I saw Sven walking towards me carrying a silver tray with a bottle of champagne and two glasses on it.
"It was 10am. I looked up and said: 'Boss, what are we celebrating?'
"He turned to me and smiled that gentle smile of his and took on the air of a Buddhist philosopher and said: 'Life, Kaiser, we are celebrating life.'
"He took a deep breath, then he spoke in that higgledy-piggledy Swedish accent. 'I like this place. I think I will manage for another five years and come back here and live with two beautiful women.
'Yes, I think I need two beautiful women.'"
Evidently a cross between Swiss Toni and Roger Moore in his final days as James Bond, Eriksson arrived in England as the saviour of the national side and left as the scourge of the nation. He topped a love-to-hate list of sportsmen shortly after the 2006 World Cup, and here we chart his indiscretions in the England hot seat.
ULRIKA
Eriksson was a man doing well. His England team had beaten Germany 5-1 in Munich, qualified for the World Cup, and he had an Italian girlfriend to come home to when not at his Soho Square FA office.
But then he went from brunette to blonde, playing away with Shooting Stars panelist Ulrika Jonsson, an affair that was broadcast just five weeks prior to the 2002 World Cup.
Jonsson revealed how she was at the fridge once getting out some milk, when suddenly the unassuming Lothario started stroking her neck to prompt some afternoon delight. Dairy, as Marlon Brando previously exemplified, is seemingly a winner with the ladies. FARIA
After the 2004 European Championship, Eriksson's popularity had dwindled. For a second successive finals England had been eliminated at the quarter-final stage in a tournament which saw numerous shock exits, and complaints about Eriksson's lack of emotion were commomplace.
He had no issue displaying his feelings to women however. Again Eriksson cheated on partner Nancy Dell'Olio, this time with FA secretary Faria Alam, who revealed in August that year to The Mail on Sunday and News of the World the graphic nature of her sexual escapades with Eriksson and FA chief executive Mark Palios. Palios resigned from his post whereas Eriksson stayed, despite calls for his dismissal.
Sven instead received a new contract, and England went out at the next tournament at the last eight stage. Again.
NORN IRON
England had not lost a major qualifier under Eriksson in 22 matches. But pressure was beginning to mount on the ice-cool coach; a pathetic 4-1 defeat to Denmark in an August friendly and an unconvincing 1-0 win away at Wales, ranked 71 in the world, ensured optimism was scarce.
Then England travelled to Northern Ireland. Deploying David Beckham as a quarterback in a midfield three along with Steven Gerrard and Frank Lampard was as bad an experiment as Eric Banner's with gamma rays.
Michael Owen was isolated as Shaun Wright-Phillips ran into opponents or the touchline, whilst Wayne Rooney became so agitated with the disjointed tactics that he took out his anger not only on the referee, but Beckham at half-time.
Then with 16 minutes to go, the Swede became a turnip. David Healy smashed the ball past Paul Robinson on the half-volley to send Windsor Park into raptures, and England now faced defeat against the 103rd best side in international football.
Eriksson responded haplessly by introducing Jermain Defoe as One More Striker and the then-bad pfenning, Owen Hargreaves. The visitors never threatened the Green and Whites, and it was confirmed on that woeful Wedesday night that although they had the players to win the forthcoming World Cup, they didn't have the coach.
FAKE SHEIKH
Another World Cup, another Eriksson controversy. In January 2006, he was recorded saying to a sheikh that he would willingly leave the Three Lions role to manage Aston Villa if England won the World Cup. Believing that an affluent Arab would buy the club and wanted him as manager, said affluent Arab was in fact "Fake Sheikh" Mazher Mahmood, an undercover News of the World reporter.
Eriksson went on to speak candidly about four of his first-choice England starters. He stated David Beckham's purported unhappiness at Real Madrid and divulged how Michael Owen had informed him of his discontentment at Newcastle United, yet was stunned by his "incredible" wage packet. He also made reference to Wayne Rooney's "temper" and labelled Rio Ferdinand as "lazy sometimes".
Shortly thereafter, the Football Association announced that Eriksson would leave his job after the Germany World Cup, ending a five-and-a-half-year tenure. Eriksson claimed that there was a prior arrangement to terminate his contract immediately after the World Cup, but the hastiness of the FA's announcement suggested that the Screws' sting had been instrumental.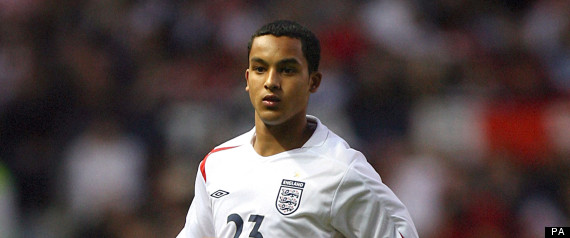 THEO
Forty years on from 1966, hope sprung eternal in England. Brimming with exceptional talent, they had beaten Argentina in a thrilling November friendly, boasted a spine of Ferdinand-Terry-Gerrard-Lampard-Owen-Rooney, and had big tournament experience ahead of Germany 2006. Then the squad was announced.
When the name 'Theo Walcott' appeared on screen at a superfluously lavish unveiling of the 23-man party, the camera flashes were so rampant the room resembled a nightclub. Seventeen-year-old Walcott had signed for Arsenal in January but had not yet had a kick in the first-team, having previously played in the Championship with previous club Southampton earlier that season. Darren Bent and Jermain Defoe, with 22 and nine goals apiece that season, were both overlooked in one of the most glaringly erroneous selection errors. Eriksson's judgement was all the more puzzling since Rooney and Owen were both nursing injuries.
Owen broke down with an anterior cruciate ligament injury in the third group game against Sweden and Rooney, clearly unfit, was ostracised like a leper to play up front on his own, despite his trequartista forte. He was sent off in the quarter-final loss to Portugal.
Other nonentities selected included Jermaine Jenas (also didn't play), the paceless Stewart Downing and the internationally-challenged Jamie Carragher. Tactically inept, embarrassed by WAGS on the lash and as toothless as Bruce Forsythe, the bitterness over the campaign remains a sour aftertaste for many patriots.