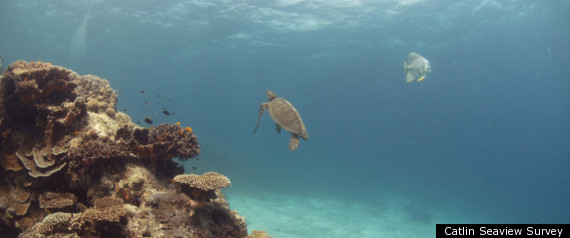 Sufferers of galeophobia, fear of sharks, can finally have the dream diving trip they're too timid to take.
The Catlin Seaview Survey has taken Google Earth under the waves on Australia's Great Barrier Reef, to create a virtual diving experience for the first time.
The new survey will mean non-divers can make their way around the reef, without having to get their toes wet - or leave the northern hemisphere.
The beautiful images generated are not just for jollies, the survey is a pioneering scientific survey of the Great Barrier Reef.
The project is a joint venture between global technology giant Google, the UQ Global Change Institute, not-for-profit organisation Underwater Earth and insurance company Catlin.
The first ever study of its kind will look at the composition and health of the reef's coral, down to an unprecedented depth of 100m .
The project's chief scientist, Professor Ove Hoegh Guldberg from the Global Change Institute at The University of Queensland, said in a statement from Singapore: "The visual nature of the project will also help bridge the gap between scientific knowledge and public awareness," Professor Hoegh-Guldberg said.
"The Catlin Seaview Survey comprises a series of studies which will reveal to the public one of the last frontiers on Earth: the oceans.
"For the first time in history, we have the technology to broadcast the findings and expedition through Google. Millions of people will be able to experience the life, the science and the magic that exists under the surface of our oceans. This project is very exciting."
A 360-degree camera developed by Catlin will motor along under the water on a specially built scooter.
New images will be released throughout the year, and will eventually be viewable on Google Earth and Google Maps.
The Catlin Seaview Survey will capture the impact of climate change on the reef, which sufferers from coral bleaching as the waters above it become warmer.