Elton John's annual Oscar's after show bash always has an array of A-list stars on its guest list, but this year there was one extra special attendee who was attracting all sorts of attention.
Elton and his partner David Furnish proudly showed off their son Zachary at their showbiz party last night, as the stars arrived at the annual fundraiser.
He may only be 14 months-old, but that didn't stop Zachary from mingling with some of the world's most famous faces, including Katy Perry, Kelly Osbourne, Heidi Klum and Miley Cyrus, who all turned out for Elton's party.
Katy Perry in particular spent some quality bonding time with the little lad, pulling faces to keep him entertained.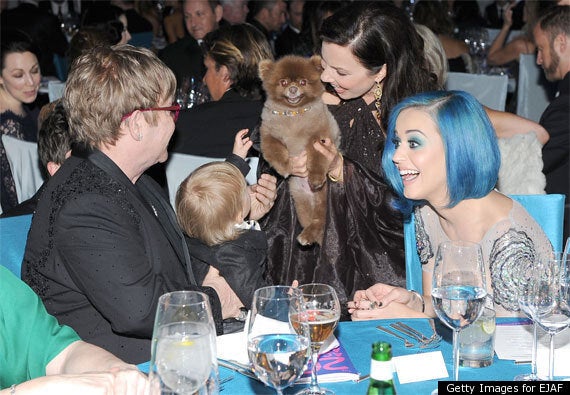 Zachary - who was born to a surrogate mother - is no stranger to pop princesses - his godmother is Lady Gaga after all.
It was a surprise to see the toddler at the event, as he is rarely photographed, and Elton and David have both previously spoken of how they fear for Zachary growing up in the intensity of the showbiz spotlight.
David added: "I think he's going to have a lot of attention thrust upon him.
"He's going to be potentially doubly stigmatised, because one of his parents is extremely famous and because he comes from two dads."
But by the looks of these pictures, he'll have an army of A-listers on his side ready to help him fight off any unwanted attention.
FULL GALLERY OF ELTON AND DAVID'S OSCAR AFTER SHOW PARTY