Meet dwarf strongman Jason Owen - the UK's only dwarf body builder who can lift more than twice his own body weight.
The pint-sized powerhouse - known as Mini Arnie after his hero Arnold Schwarzenegger - can bench-press an amazing 26 stone - the same weight as an adult gorilla.
Four-foot-five Jason, who weighs 11 stone, spends four hours a day working out in the run up to bodybuilding competitions
And after a short break from training over the summer, Jason is looking to regain the washboard stomach he once competed with.
Jason is also well known for working as a doorman in his hometown of Mitcham, Essex. He has also guarded clubs across Surrey and Essex, including The Sugar Hat bar that features in TV's The Only Way Is Essex.
Jason, 30, said: "Pound for pound I'm one of the strongest guys at the gym. People say I'm amazing but I just love the buzz of competing.
"Occasionally I do get grief for being a dwarf when I'm working the doors.
"I don't let it get to me and often by the end of the night I have the mouthy person over my shoulder when I chuck them out.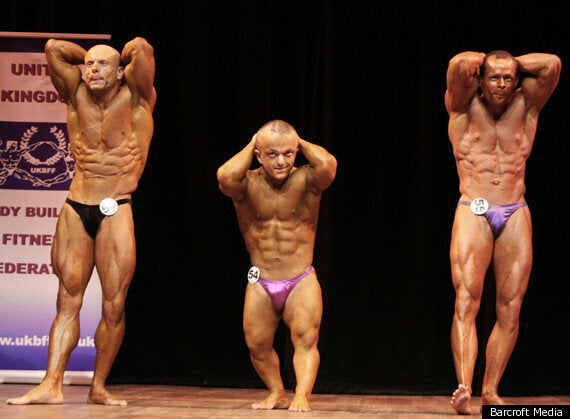 'I just love the buzz of competing': Jason spends four hours a day working out
"People are always surprised by my strength."
Jason's training routine involves eating 4,000 calories in protein-rich food and power shakes.
For breakfast he eats porridge followed by six egg whites then has up to four meals of chicken, broccoli and rice throughout the day.
He then heads to Pinks Gym in Carshalton, Surrey, where he amazes gym-goers with his feats of strength.
He said: "I got called Mini Arnie because I had a haircut like Arnie's and the name just stuck. He's one of my bodybuilding inspirations.
"I have been told by people at the gym that I am an inspiration because I never let my size get in the way of doing what I want.
"Occasionally I need assistance when my legs are too short to do leg presses - but I just get on with it. I don't get treated any differently by the other guys at the gym."
Jason is now in training for the Kent Klassic bodybuilding competition in Gravesend in August,
He said: "I haven't won a competition yet but this summer I'm hoping to get in shape and bring home a trophy.
"I love bodybuilding because after you put your body through all the pain of training and competing, there can be a prize at the end of it all.
"There's a sense of satisfaction that you get from having a body you have worked hard for.
"I do get some female attention, but often women ask for tips about losing weight."
Jason also works part-time as a bingo caller and cares for his mother, Babs, 68, who is a dwarf too.