Iran has announced it will give UN inspectors access to the military site where it is thought work on nuclear weapons is being completed.
The news came as Israeli prime minister Benjamin Netanyahu warned that the world was "running out of time" for Iran to demonstrate it was not building a nuclear arsenal.
An Iranian diplomatic mission in Vienna made the announcement that the visit to Parchin could take place, the ISNA news agency reported via Reuters.
Diplomats are reported to have said: "Parchin is a military site and accessing it is a time-consuming process, therefore visits cannot be allowed frequently ... We will allow the IAEA to visit it one more time."
However no date has been given for the inspection and IAEA officials have not confirmed the invitation.
The Parchin complex, southeast of Tehran, was cited in an International Atomic Energy Agency report in November, which said Iran was closer than ever to successfully building a nuclear bomb.
The IAEA report said a large containment chamber had been constructed at Parchin, and was being used to conduct explosives tests as part of the nuclear research.
"A large explosives containment vessel in which to conduct hydrodynamic experiments. The explosives vessel, or chamber, is said to have been put in place at Parchin in 2000," the IAEA report said.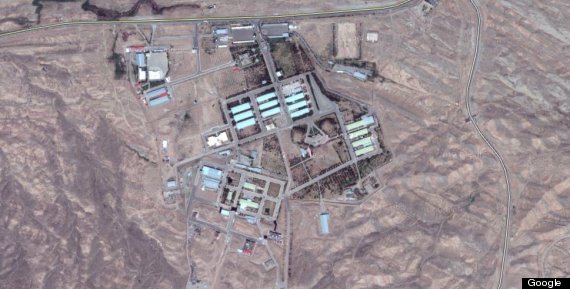 Above: the disputed Parchin site is viewable on Google Maps.
Access to the site was requested on a previous visit by IAEA inspectors in February, but was turned down by the Iranian authorities.
Iran has maintained that Parchin is a military site and cannot be inspected at will.
It also insists its nuclear programme is peaceful and aimed at providing power and medical treatment for its people.
Director general of the agency, Yukiya Amano, said at the time that it was "disappointing that Iran did not accept our request to visit Parchin during the first or second meetings" after his group "engaged in a constructive spirit" on their visit.
Now Tehran appears to have changed its mind.
Parchin was first visited by IAEA inspectors in 2005 after an expert said satellite imaging suggested its role in nuclear weapons development.
However on that visit the inspectors were unable to visit the area where they now believe the key facilities were built.
Meanwhile Israeli PM Netanyahu said in a speech to a US conference on Monday evening that "a nuclear-armed Iran must be stopped".
His comments followed a meeting with US President Barack Obama at the White House, which was described as "not dramatic or decisive" according to American officials quoted after the meeting.
In the speech, which reflected the recent tension over Iran's nuclear programme, Netanyahu said:
"Israel has waited for diplomacy to work, we've waited for sanctions to work. None of us can afford to wait much longer.
"As prime minister of Israel I will never let my people live in the shadow of annihilation."