A 23-year-old man is suspected of shooting a Tulsa County Deputy and injuring four others when he fired several shots outside a courthouse in Oklahoma.
Joseph Dennehy opened fire on Wednesday afternoon, shooting randomly outside in the plaza in front of the building.
Hearing gunfire, deputies rushed outside, returning fire. A deputy and a passer-by were hit before the shooter was eventually cut down.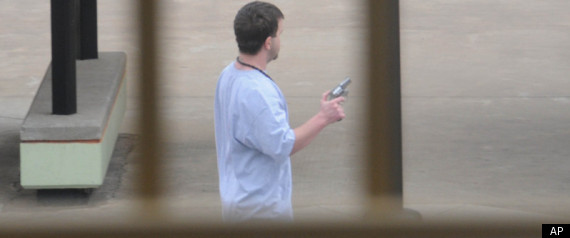 Dennehy moments before he was shot
Dennehy lay on the concrete at the scene, bleeding from his upper body.
He was taken to a local hospital, but his condition remains unknown. He has yet to be formally charged.
Both the deputy and the passer by suffered non-life threatening injuries.
Reported by the Associated Press, an Emergency Medical Services spokesperson confirmed that one man was taken to a hospital in critical condition, two others were hospitalized "one in serious and one in fair condition".
A woman, who was not hit, was treated at the scene for shock.
Glyn Roe, a witness to the shooting, said: "Everybody was running. I was watching it to make sure he wasn't coming into the library, or I would have started running, too."
Warning: Graphic Content