Only last week Lauren Goodger was speaking about how unhappy she was with her body.
But it now looks like she has some new found confidence as she has stripped to her smalls for a saucy shoot.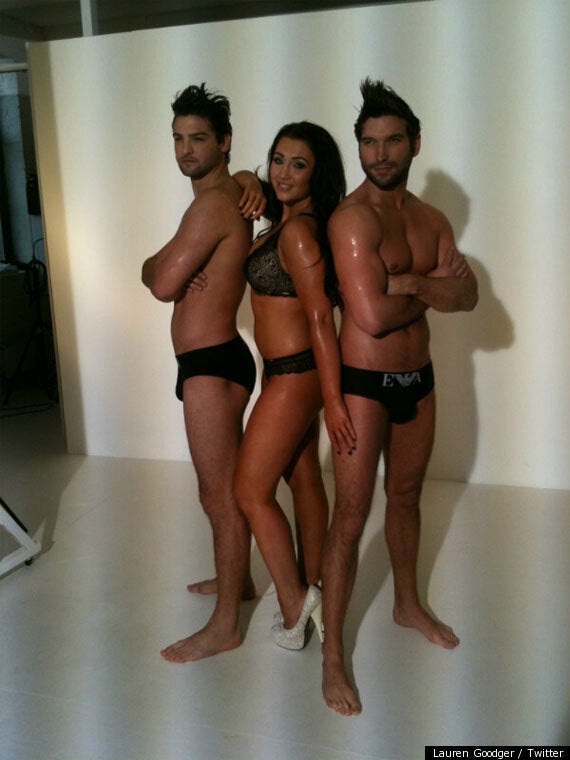 Appearing in her first ever underwear shoot for the Daily Star, Lauren tweeted a teaser of the full spread to her Twitter account.
Beside two greased up men, the TOWIE star looked right at home, following in the footsteps of many of her castmates.
Posting the pic online she wrote: "Sneaky pic that I shouldn't send from my mobile of 2moro shoot in the daily star this untouched my bbm pic lol"
And it appears she got in trouble for posting the snap, as the tweet was deleted from her profile.
However, Lauren clearly hasn't realised it is still on a photo account linked to her Twitter profile. Whoops.
Last week, Lauren told Heat magazine of how she thought she was fat after going from a size 8 to 12.
"I feel so fat. I don't know what to do - I want to lose weight but I can't," she told them.
"I think about [my weight] all of the time - from the moment I get up, but I still struggle to do anything about it.
"I've tried boot camp, had a personal trainer and a nutritionist," she said. "But I just start eating again. I have a problem."
Related