Although not yet conquered, Roberto Mancini's mistakes this year have hinted that he may become another manager to succumb to the might of Sir Alex Ferguson.
Last night he apologised to supporters for Manchester City's exit from the Europa League, making it the third occasion this year the Italian has made an admission of guilt.
He revealed he may have "underestimated" Everton after a 1-0 Goodison Park defeat in January and made the unforced change of Sergio Aguero for Gareth Barry in the first half of the weekend defeat to Swansea City.
Four goals in their last eight away Premier League games make for depressing reading for the Citizens. Their flawless home record kept them ahead of United for five months, but now their away form is starting to weigh them down.
The blue half of Manchester boast greater resources and a better squad, but they lack the experience of a title run-in and don't have Ferguson managing them.
During the final stretch, the Scot revels under the pressure, and he has coined two phrases which have nestled into the football lexicon in relation to the period.
Appropriately for a horse racing enthusiast (he is in attendance at the Cheltenham Festival today), in 1995 he said he hoped Kenny Dalglish's Blackburn Rovers would "do a Devon Loch".
Devon Loch collapses:
The Queen Mother's horse was coasting toward victory at the 1956 Grand National before inexplicably stumbling when 40 yards from the racing post, allowing E.S.B. to win.
Now, to "do a Devon Loch" is a modern metaphor used in sport to explain a sudden, last-minute failure to achieve victory. When informed of Ferguson's quote, Dalglish sarcastically retorted: "Is that an expanse of water in Scotland?"
"My dad backed that," Ferguson revealed some years later, as if to stress the significance of it to him.
The second saying, "squeaky bum time", made its way into the Collins English Dictionary, where it is defined as "the final stages of a league competition". Ferguson uttered this in 2003 as United vied with Arsenal for the Premier League crown, with Ferguson's side ultimately prevailing.
However, the Guardian's chief football writer Daniel Taylor admitted in his 2007 book This is The One "the awful truth is that we don't know for certain that Ferguson ever said it". The Manchester press pack could not make out from their recordings of Ferguson's Glaswegian drawl whether it was "squeaky bum time" or "squeeze-your-bum-time". They put it to a vote, with four voting for the former, three the latter and two unable to decide.
So as Mancini's Man City look up at United again, he would best avoid the antics of the Reds manager's past conquests...
Kevin Keegan, 1996
Ferguson's United were fighting for the Premiership with Keegan's Newcastle side, and had usurped the Geordies despite a 12-point gap in January. Victory against a resolute 10-man Leeds United at Old Trafford in April - where Whites defender Lucas Radebe played in goal after Mark Beeney was sent off - nevertheless left Ferguson aghast however.
Keegan would have luvd it:
"They're cheating their manager," fumed Ferguson, suggesting Leeds would not try as hard when they entertained Newcastle in 13 days' time. It was a psychological gauntlet thrown down to Keegan which he could not handle. Ranting live on Sky's Monday Night Football to Richard Keys and Andy Gray after a draw away to Nottingham Forest , he exclaimed "I will love it if we beat them, love it." They didn't.
Arsene Wenger, 2005
It is testament to the enmity which existed between United and Arsenal during the Wenger golden years that the most vocal the Frenchman became about his opposite number was when neither side were challenging for the league. Chelsea romped home to their first title in 50 years, leaving their supposed competitors to the slanging matches and brawls.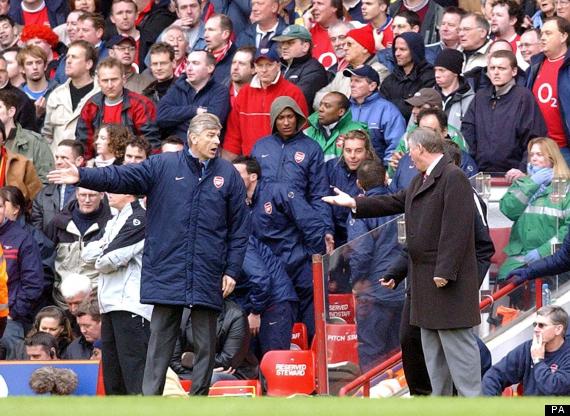 "But I did see the incident, Alex."
United ended Arsenal's 49-game unbeaten run in October 2004, sparking a melee in the tunnel later dubbed "The Battle of the Buffet" as one Gunner tossed food over Ferguson. The Scot threw a barb Wenger's way by labelling him a "disgrace" for his own behaviour after the game, and then watched as his counterpart became vexed.
"What I don't understand is that he (Ferguson) does what he wants and you are all at his feet," he told reporters after a January 2005 defeat to Bolton. The clubs' relations became so bitter the Metropolitan Police and government ministers complained, but it was Wenger who won a trophy that season, as Arsenal defeated United on penalties in the FA Cup final.
Jose Mourinho, 2007
One of Ferguson's greatest achievements was regaining the Premier League after a four-year drought against Mourinho's intimidating Chelsea side. In 2005/06 it was feasible that he might not see 20 years in the Old Trafford hot seat as United finished second. Looking weary and with the bags beneath his eyes more patent than ever, Ferguson bore stark contrast to the slick and stylish Portuguese.
Fast-forward a year and the roles had reversed. Mourinho now embodied stress and strain whereas Ferguson had taken the years off, basking in championship glory. His rival, the "new gunslinger in town", tried to play him at his own game, suggesting United had missed a big opportunity having taken the lead but drawn 1-1 with the Blues in November, leaving them just two points clear still.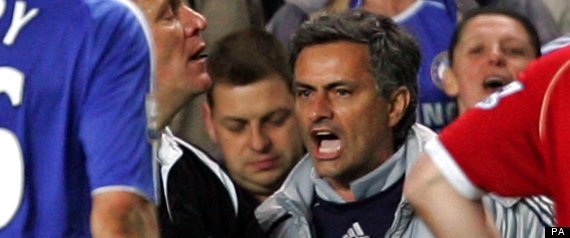 A careworn Mourinho days after Chelsea had lost the league to United
Yet United were top for all but two weeks of the campaign, and Mourinho began acting bizarrely. In-house tensions with Roman Abramovich arose in January 2007, offering Ferguson an open goal. "The birds are whistling here... and the sparrows are waking up at Stamford Bridge coughing," he chirped.
Mourinho continued however. He criticised Cristiano Ronaldo's background and labelled Liverpool a "small club", much to Ferguson's disdain. "I don't know what the matter is with the lad," he mused expertly.
Rafael Benitez, 2009
Whereas Keegan's grievances were aired spontaneously and passionately, Benitez's "Fact" tirade was calculated. Liverpool were ahead of United in the league at the time when, at his pre-match press conference, Benitez whipped out a sheet of "facts" he proceeded to reel off criticising Ferguson. Then he started trembling and got angrier, and angrier, and angrier.
Liverpool drew 0-0 away at Stoke City the next day, United battered Chelsea 3-0 on the Sunday and Benitez's team entered a run which saw them fall seven points behind the Red Devils - who had a game in hand - in less than two months. United supporters sang "Rafa's cracking up" and to celebrate tying with their nemesis on the same number of titles at the end of the season, "18 times - and that's a fact".