The world's priciest tea is set to go on sale for a steep £130 a cup - but its secret ingredient may cause a stir.
Chinese entrepreneur An Yanshi has created his own range of organic tea, using leaves grown on the mountains of Ya'an, in Sichuan province - fertilised with his unique ingredient, panda dung.
It is believed that pandas, who live on a diet of wild bamboo, absorb only 30% of nutrients from their food, therefore, in theory, they excrete 70% of their diet's goodness, thus creating the perfect nutrient-rich soil for tea.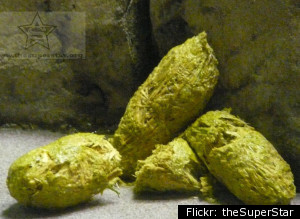 "The pandas are like a machine that is churning out organic fertiliser," Yansi said, as reported by Sky News.
"I just want to convey to the people of the world the message of turning waste into something useful, and the culture of recycling and using organic fertilisers."
The tea is about to be exported around the world and will cost £2,200 for 50g (16 cups).
Panda enthusiast Yanshi even dresses up as the black and white bear when picking the tea leaves.
"I thank heaven and earth for blessing us with this environmental panda tea."
Bizarre Food Customs From Around The Globe