"This is not a catastrophe story," says David Calder, who plays Titanic's famous bearded captain Edward Smith in Julian Fellowes' four-part drama (starting this Sunday on ITV).
Many have seen Smith portrayed before, in James Cameron's 1997 epic film Titanic as an indecisive leader who took too long to make vital decisions during the sinking of the ship in 1912.
However, explaining why he felt able to play the historical figure, Calder says: "Some films are like disaster porn. This is not about the spectacular death of 1500 people, it's about the lives of people in an event that could been avoided."
At the launch of Fellowes' adaptation of the Titanic story to mark the hundredth anniversary of the disaster, some of the 86-strong cast tell The Huffington Post UK why they got involved with the project and what Titanic means to them…
Steve Waddington, who plays Second Officer Lightoller - the man who forces the Captain to get the life boats away once he realises the ship is sinking - says: "I just think it's fantastic, it means something to everyone.
"There's something about it that just captures people's imaginations because I think we all at some point thought to ourselves 'what on earth would I do in that situation?' It's struck a chord and resonated throughout the centuries."
Antonio Magro, who plays engine-room stocker Italian Mario Sandrini, explains: "I grew up watching the film and had an older sister so we watched it a few times and Titanic is such a huge British production I thought it was something to get hold of."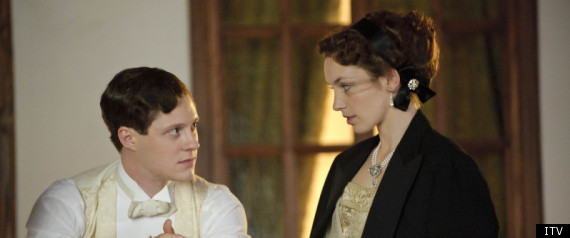 For Lyndsay Marshall, who plays ladies' maid Lady Watson, it was the enduring connection people have to the ill-fated ship that interested her...
"After all this time people have connections to it or have lost family members. My best friend's great-uncle survived the Titanic by climbing up a chimney post - but he would never ever talk about it."
Geraldine Somerville, who plays first class passenger Lady Manton, travelling to America with her husband (Linus Roache) and rebellious daughter (Peredita Weeks), states: "I've always been fascinated by the story of Titanic."
She adds: "It is a great leveller that says to everybody there are things so much greater and bigger than we are that we cannot control and money can not buy."
Below in steerage class, Ruth Bradley plays Mary Maloney, who is on board the ship with her children and husband. She explains: "My mum always told us about Titanic when we were kids and then I was a big fan of the film.
"I suppose I didn't know many actual details I just knew it was a huge tragedy and a huge moment in history, but I suppose doing this with the research, I've seen the people were just like we are… for my character with small children to be stuck there there was just a maternal instinct to survive."
Finally, Maria Doyle Kennedy, who starred in Fellowes' hit period-drama Downton Abbey as John Bates' destructive wife, plays Muriel Batley in Titanic - a second class passenger "perfectly poised" in the middle of the English class system.
She admits: "I really just knew the bare bones of the story. I couldn't believe how many people came forward and said to me 'do you know this, do you know this?' and how much knowledge people had.
"It's mythical isn't it? But it happened and it's a real event and also the catalogue of things that led to the disaster, that led to it being the huge catastrophe that it was, is extraordinary and almost beyond belief."
SLIDESHOW: Titanic's cast in action...