Thousands of football fans clapped and cheered in a show of support for Fabrice Muamba as his Bolton Wanderers side returned to the pitch today.
The 23-year-old player remains in the London Chest Hospital, where he was admitted last Saturday after suffering a cardiac arrest during his club's FA Cup quarter-final with Tottenham at White Hart Lane.
At the Reebok Stadium, his team-mates took on Blackburn Rovers in a local derby as Wanderers resumed their Premier League campaign.
Players from both sides completed their warm-up with T-shirts emblazoned with "Muamba 6" in tribute to the midfielder as fans chanted his name.
Shortly before kick-off a video was shown on the big screen featuring images of support that have been received during the week.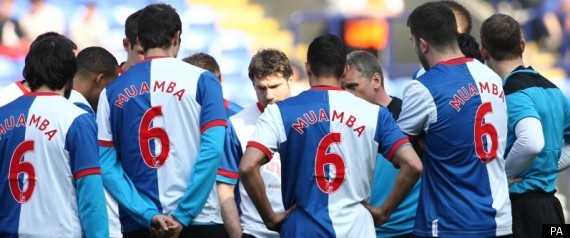 Blackburn Rovers' players wear Muamba on the backs of their shirts
It was followed by a loud burst of applause from both sets of players and fans.
Supporters in the lower tier of the Nat Lofthouse stand each raised a poster to display a mosaic spelling out "Muamba 6".
Muamba faces a long road to recovery, according to a joint statement released yesterday by the player's father Marcel and fiancee Shauna Magunda.
"Even though Fabrice has made great progress over the last couple of days, he is still in intensive care, and still has a long period of recovery ahead," read the statement.
"He has asked that you please keep him in your prayers."
Bolton chairman Phil Gartside has confirmed Fabrice Muamba will remain with the club "as long as he wants".
"He will be here as long as he wants to be," he told BBC Radio Five Live. "It is all about Fabrice. It is not a football story. It is a Muamba story."
Bolton won today's game 2-1.