Scroll down for the full image of Nadya Suleman (almost) in her birthday suit and many more pictures
Her octuplets have just turned three, so what better occasion to show off her post-baby body and pose topless.
Dubbed "octomom" after giving birth to eight babies in 2009, Nadya Suleman has apparently pinged back into shape and wants everyone to know about it.
But although she's become a hate figure in her native America for choosing to have the babies through IVF – despite the fact she was already struggling as a single mother-of-six – her photo shoot for Closer magazine shows she's no shrinking violet.
SEE ALSO:
Flaunting a flat stomach and a 34DD bust, Nadya boasts she still gets plenty of admiration from the opposite sex, despite admitting she has stretch marks and "slightly saggy" assets.
Incredibly, Nadya claims she's been celibate for 13 years – her children were all conceived through a sperm donor – and reveals she has no interest in dating, hates male attention and has to work hard at "disguising her beauty" to put off men.
"I get way too much male attention, but I won't date until the octuplets are 18 – I live for them now," she insists.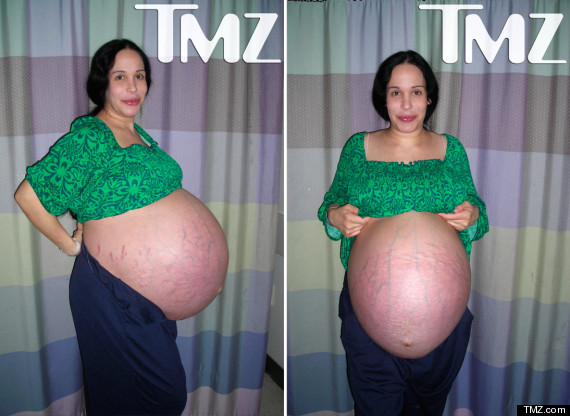 Nadya put on over nine stone during her pregnancy, as these pictures courtesy of TMZ reveal
"I know a lot of women like male attention, but I'll go out with no make-up on and wear tracksuits, a wig and even a fake pregnancy stomach to put them off."
And the 5ft 7 mother – who insists the only cosmetic surgery she's had is a breast reduction when she was 17, which took her from a DD-cup to a C-cup – boasts she doesn't have to do much to retain her enviable figure.
"I just pinged back into shape like a rubber band after the kids – I don't know how I did it," she shrugs.
"I eat like a horse, don't count calories and have never owned a set of scales. I gained an entire human when I was pregnant with the octuplets – going from 10st to over 19st – but, two months later, I was a size 8 again. Now, I never weigh myself."
Nadya, 36, who lives with her brood in La Habra, California, already had six children – Elijah, now 10, Amerah, nine, Joshua, eight, Aiden, six, and twins Caleb and Calyssa, five, who were all born through IVF using a sperm donor – when she decided to have more embryos implanted in 2008, using the same donor.
Despite being shocked when she discovered she was carrying octuplets, as she insists she didn't realise so many embryos had been implanted, Nadya decided to go ahead with the pregnancy.
"I was grabbing my head and thinking: 'Oh God, please God don't let there be eight' – but there was no way I could have aborted them, that would have been murder," she explains.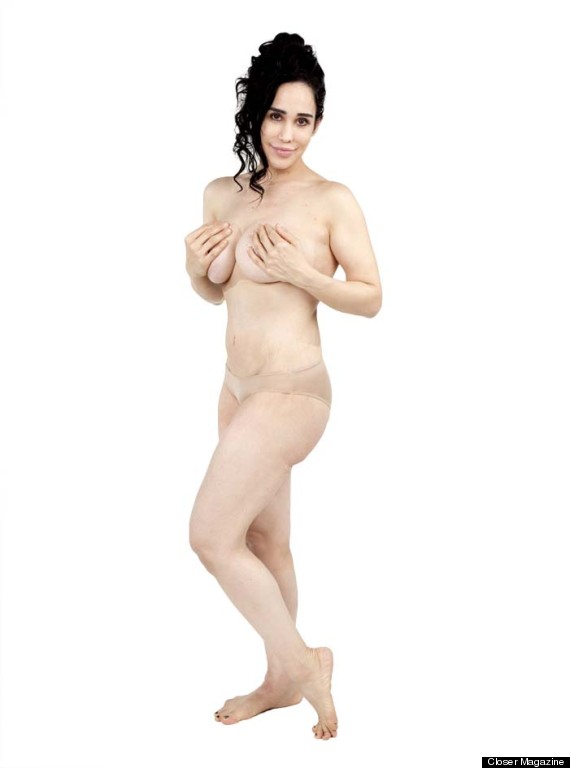 The mother-of-14 says she's proud of her stretch marks
In 2009, she gave birth to six boys and two girls – Noah, Jonah, Jeremiah, Isiah, Josiah, McCai, Maliah and Nariah, who turned three in January – making them the longest-surviving set of octuplets in American history.
"I didn't really mind how I looked when I was pregnant. It happened gradually, so I got used to it. It's all part of being a mum, it's natural," she says.
"I got stretch marks on my stomach and a lot of veins came out. But it didn't matter to me. Even now, I'm proud of my stretch marks, although they've faded.
"My breasts had already grown back to a DD after the other kids, but they only sagged a bit with the octuplets and I breastfed them all – I don't know how my body did it!"
Despite insisting she "pinged" back into shape, Nadya does admit that just two weeks after she gave birth, she began doing 50 sit-ups a day – even though she had a C-section and mums are advised not to exercise for six to eight weeks afterwards – and hit the gym three times a week for two-hour stints in the middle of the night while a friend babysat.
"I'd sneak off at 11pm, but it wasn't to get skinny, just to get stronger," she insists. "I've never believed in diets – I just eat healthily. I'm a pescatarian and eat 15 portions of fruit or vegetables a day. I eat so much!"
She adds: "Now, I run 40 miles a week, whenever my mum or a friend will babysit, but it's still just for stress relief. My eldest son even comes with me sometimes – he can manage a couple of miles."
And, despite admitting caring for 14 kids alone is a struggle, she says she gets no help apart from when friends or her mum visit a few times a week. And Nadya is adamant she isn't looking for a man.
"I've been celibate for 13 years and plan to remain so until the octuplets are 18. I've only ever slept with two men," she reveals.
"The first was when I was 20 – we stayed in touch and he's been my sperm donor, but we don't talk now. The second was when I was 21. He was my boyfriend for five years. We tried for kids, but couldn't conceive."
She adds: "I wouldn't rule out a relationship in the future. But now, when men look at me, I look away and they know not to approach me. I know I'm beautiful – I don't need a man to tell me that."
Meanwhile, Nadya maintains she's coping perfectly well with her brood alone. Claiming she doesn't take state handouts and relies solely on funds from publicity interviews and photo shoots – although she's eight months in arrears on her mortgage and facing eviction from her four-bed home – she completely denies previous interviews in which she was quoted as "hating" babies, describing her older kids as "animals" and regretting her decision to have so many.
"I love looking after them, they're the least of my stresses. I'm such a good mother," she boasts. "I'm so loving and my kids are so happy. There's never been a time I've regretted having so many."
Incredibly, she adds: "I can't believe how fortunate they are, too. I'd love to be an octuplet – their camaraderie and bond is amazing. They look out for each other, they're so lucky."
And she insists there's little rivalry between them because her attention is not divided.
"My love just grows. And I've trained them so well, they can brush their own teeth, dress themselves and scrub each other's backs – they're so independent," she explains, adding that the older kids help with the housework, giving her time to do the family's five loads of washing a day. "It's not chaotic," she insists. "They're very quiet and obedient and they're well-behaved and smart."
She adds: "The kids have structure and discipline and only eat healthily – they don't know what candy is! I've done a really great job with them – I don't get any credit."
This week's Closer magazine, with a free real life supplement, is on sale now.