Mum-of-six Sara Agintas weighs a hefty 33 stone, thanks to years of gorging on junk food.
But now the 43-year-old, who spends up to £200 a week on takeaways, claims she is "too fat to work" and wants a taxpayer-funded £14,000 gastric bypass on the NHS.
Mrs Agintas, who wears a 36-38 dress-size, blames her junk food habit on years of pregnancy cravings.
In an interview with Closer magazine, she admits to knocking back 12 "small" cans of lager a day when she was expecting her sixth child and complains she put on weight after each birth because she found it "too hard to diet" and says exercise "hurt."
Agintas lives with her six children, Gemma, 25, Lauren, 21, Thomas, 18, Sam, 13, Hannah, 12, and Zoe, nine and husband Halbin, 42, who works just two days a week due to back injury.
Between them they receive £17,000 a year in benefits, including £188 a month in Child Benefit, £200 in Tax Credits, £188 in Housing Benefit - plus £296 in Working Tax Credits from her husband.
She told the magazine: "I can't work because I'm too fat to fit in an office chair and can only stand for two minutes at a time.
"I can't afford a personal trainer or weight-loss surgery - I need help from the taxpayer. I know it's my fault I'm fat, but my pregnancy cravings meant I couldn't stop eating."
When 6ft Agintas became pregnant at 17 by her boyfriend of just a few months she was already weighing in at 15 stone.
She recalls: "I've always been big-boned, although I did eat loads of cakes, crisps and biscuits. It didn't put men off and I got pregnant the first time I had sex. I was happy, because I'd always wanted to be a mum."
But Sara and her boyfriend split a few months into her pregnancy and she moved into a one-bed council flat. During the year after giving birth to Gemma, she claims she applied unsuccessfully for 15 jobs.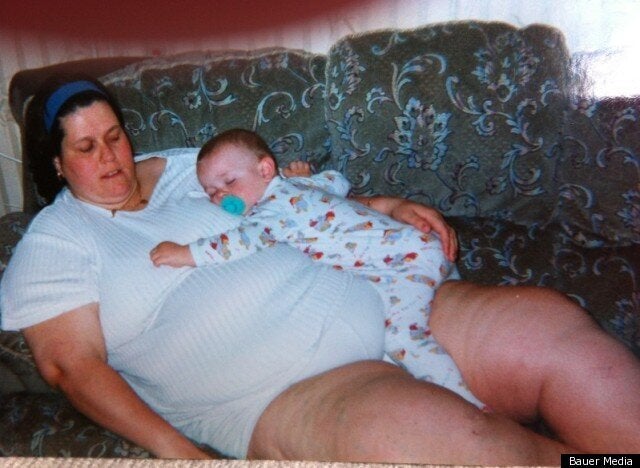 She says: "I gave up looking for work after that. I was better off on benefits. I couldn't afford fresh food, so I ate cheap junk food. I had up to eight tins of sausages a day."
In 1990, by the age of 21, Agintas weighed 20st and was a size 24. She met a new boyfriend and, shortly after moving into his three-bed council house, had baby number two, Lauren.
Continuing to binge-eat through her second and third pregnancy, her weight crept up to 30 stone.
She admits: "I fell through the stairs in my house one day and the council had to reinforce the floor. Doctors told me to diet, but it was too hard."
But it wasn't just her own health Agintas was putting at risk. The mum-of-six admits to feeding her children the same junk food.
"They ate what I ate - pasties and crisps. I was lazy - it was easier to phone for a takeaway than cook. I gave them chips four times a week."
In 1993, she was ditched by her boyfriend "for a younger, skinnier woman" and says she turned to food for comfort.
Three years later she met bricklayer Halbin. They wed after just six months and in 1998 gave birth to Sara's fourth child Sam by which time her weight had reached a whopping 38 stone.
"After having Sam, doctors told me to diet, but it was hard. I joined a gym, but could only do five minutes on the running and rowing machines, then I'd have fish and chips afterwards."
Sara managed to lose six stone, but piled two stone back on during her next pregnancy.
Now 33 stone, the 43-year-old who suffers from arthritis, diabetes and asthma, says she is desperate to lose weight but denies she can do it without taxpayers' help.
She says: "I can never get below 30st. Only a bypass will help me."
The full feature appears in this week's Closer magazine, on sale now.