David Cameron welcomed David Walliams, Helen Skelton, John Bishop and Josh Lewsey to Downing Street today to thank them for their Sport Relief fundraising efforts.
The stars each took part in major challenges, raising millions of pounds for the biennial charity event.
The Prime Minister met the four and questioned them on each of their efforts - which saw Skelton trek to the South Pole, Walliams swim the Thames, Bishop cycled to Calais, rowed the Channel before running three marathons, while Lewsey took part in the 1,000 mile First Nation Home race.
Talking to Little Britain star David Walliams, Mr Cameron said: "You swam through my constituency at Letchlade... I thought when you were doing that bit, I thought that looked all right.
"Then when you started getting closer to London..."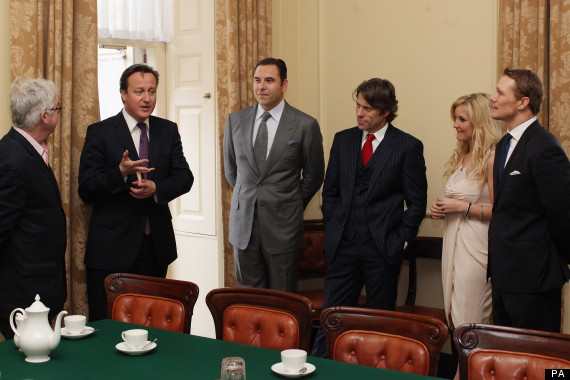 Walliams replied: "Once you get to the Thames in London, it's disgusting. The water stinks, and it's brown. No one on a bridge in London has looked at the water and thought about going in."
Skelton travelled 500 miles across the Antarctica plateau, using a bike, a kite and hauling sledges at different stages of the journey.
Mr Cameron asked: "Is it the back - what really hurts when you're doing that?"
She replied: "It's your back and your knees."
Bishop - who told the group he had been back on a run this morning - was dubbed "pretty good" by the Prime Minister in the Downing Street garden.
And Mr Cameron added: "I would have thought after three marathons, you would need at least a month to recover."
PHOTO: David Walliams' wife pictured leaving Number 10