The world's most famous horse race has come in for criticism after the death of two horses, that of joint favourite Synchronised and According to Pete, both from falls.
On Sunday, the triumphant trainer behind Saturday's surprise Grand National winner threw his weight behind improved race safety.
Outsider Neptune Collonges literally won the historic annual steeplechase event by a nose in an electrifying finish.
VOTE: Scroll down to vote
But the triumph was overshadowed by the two deaths, which have stirred debate around the ethics of annual event.
Four horses died at the famous Merseyside meet last year, including Dooneys Gate and Ornais during the big race itself.
Trainer Paul Nicholls agreed on Sunday that anything that can be done to make the race safer "should be." Tony McCoy and Synchronised are felled at Becher's Brook
Angry animal rights leaders hit out after the race on Saturday branding the Grand National "mob entertainment."
Andrew Tyler, director of Animal Aid, described the race as an "utterly depressing and melancholy experience."
He added: "The Grand National is a disgusting and shameful spectacle masquerading as sport.
"There is nothing sporting about an event that routinely kills so many horses."
On Sunday the RSPCA added its voice to calls for the race to have a radical overhaul.
Spokesman David Muir called for the number of runners in the race to be reviewed and said jump design and race length should also be looked at.
"I am not happy about drop fences like Becher's," he said. "It appears the horses still had difficulties with it."
Champion trainer Paul Nicholls admitted that the deaths of the two horses had overshadowed Neptune Collonges' victory "a little bit".
As he basked in the success of yesterday's victory he insisted that he just wanted to "enjoy the moment".
But he went on to accept that safety had become an issue and should be addressed.
"I just want to enjoy the day today," he said speaking at his training stables in Ditcheat, Somerset.
He added: "But, of course, if there is anything that can be done to improve the safety of the race then it should be done."
Following its victory, Neptune Collonges was the toast of a West Country village.
Villagers in Ditcheat, Somerset, came out in their droves on Sunday to give the grey champion a hero's welcome - after a night of celebration in which the champagne flowed freely.
Any hangovers they may have been nursing were nowhere to be seen as they gave the horse a rapturous reception. The village is home to trainer Paul Nicholls's stables.
Hundreds swarmed around the victor, his trainers and carers, cheering and applauding loudly.
Patrick and Sara Finch, from the nearby village of Parbrook, were surprised and slightly bemused by the massive turnout for Sunday's victory parade.
DEBATE: Scroll down to add your comments
"It is all a lot more than we were expecting but it is really quite something. This is something very big for Somerset because we don't have a lot of sporting heroes," Mrs Finch said.
The horse took several tours around the small well-heeled village. Roads and lanes in every direction were filled with parked cars and people straining to get a glimpse of the winner.
Many who would not usually pay too much attention to a horse race strained to get a glimpse of the champion.
Others patted the gelding's jockey Daryl Jacob on the back and took his picture.
Mr Jacob, who was all smiles, said: "I am absolutely delighted. This is a great horse who galloped from fence to fence and jumped without let.
"A lot of Paul's horses are very very fit and strong and that has paid off. It is fantastic."
The victory parade followed a night of revelry - with more than 40 bottles of champagne being sold in the village pub, The Manor House Inn.
Landlord Simon D'Offay said: "It was full to the rafters last night - it was a fantastic celebration. There must have been a good couple of hundred people here.
"We must have sold between 40 and 50 bottles of champagne last night alone.
"I have been here three years and this is the busiest that I have ever seen it."
Sue Sutcliffe, a neighbour of Mr Nicholls, added: "I live up on the hill and see them training every day. I've got horses of my own and this is a very horsey area.
"I'm really delighted that something like this has happened."
On Sunday those who care for Neptune Collonges admitted that the world's most famous steeplechase on Merseyside would be his last race.
Head Lad, Clifford Baker, who has tended to the horse for many years, told Sky News: "He is basically retired now so he won't race again. He deserves his break - I am pleased for him.
"There is nothing better than to see a good horse like this win a race like that and come back down here and for everybody to see him - it is absolutely brilliant."
However, the victory was marred by the tragedy of the two deaths.
Mr Baker added: "It is always sad to have horses die but unfortunately it is part of it sometimes.
"We're here to celebrate winning so that is what we are going to do."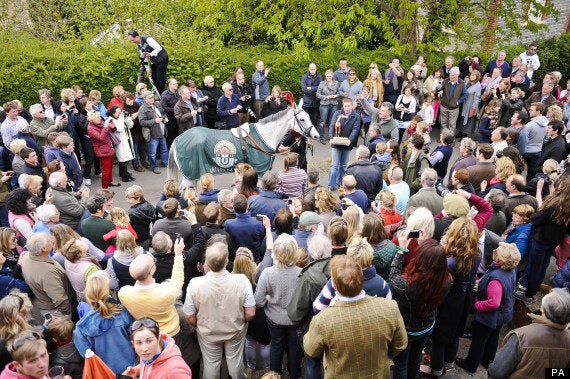 Neptune Collonges is paraded at Paul Nicholls Manor Farm Stables