An Italian museum has started burning its artworks in protest at government budget cuts.
And he insists they will go at a rate of three a week in response to severe austerity measures that have resulted in a dramatic decrease in state subsidies and charitable donations directed towards art institutions.
Manfredi has dubbed it the 'Art War'.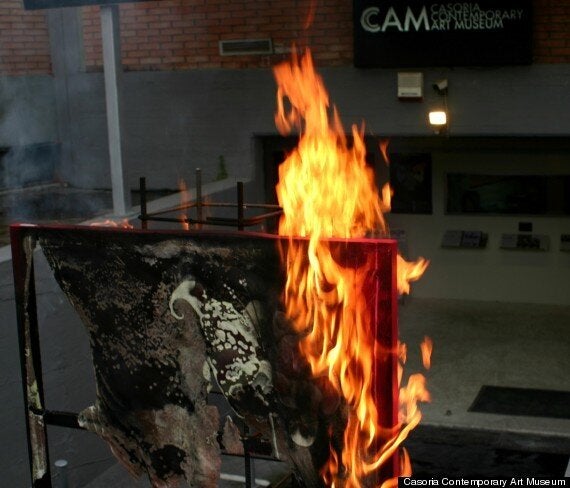 Reduced to ashes: a painting from the Casoria Contemporary Art Museum
First to go was a painting by French artist Severine Bourguignon, who followed the protest on Skype and wrote to the museum to express solidarity with their cause.
Other artists from around the world have publically declared their support for the Casoria Contemporary Art Museum, including Welsh sculptor John Brown who torched his own piece on Monday.
It's not the first time Manfredi has attracted controversy – last year he wrote to German Chancellor Angela Merkel asking for asylum, again in protest against the Italian government and what he perceived as their failure to protect culture and arts. He letter went unanswered.
Protests by museums and art institutions against cuts to funding have occurred throughout Europe since the response to the eurozone crisis began, including in the UK.
Check out the news of the day in pictures below:
Related