Source: Barcroft Media
A real-life Rapunzel has cut her hair for the first time to give her family the fairytale home they always dreamed of.
Natasha Moraes de Andrade, 12, wept as her 1.6m was sheared for the first time ever. But now she says it has given her a new life.
Natasha, who lives in a shanty town in Rio de Janeiro, was previously unable to do things enjoyed by other children because of her long and heavy locks.
Scroll down for more pictures of Natasha's lustrous locks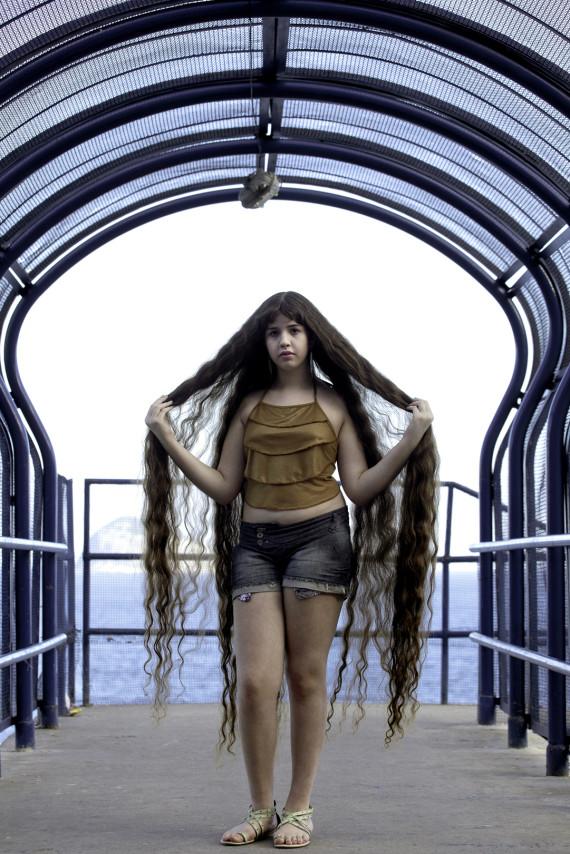 The 12-year-old wept when her hair was cut, but has made £3,000 from selling it for extensions
It took four hours every week to wash her hair and an hour-and-a-half to brush every day, making her life a misery.
Now she has had it all hacked off into a simple bob of just 40cm in length, and washing her hair only takes five minutes.
And while Natasha currently sleeps in a tiny, windowless room, she got R$9,000 (about £3,000) from selling the hair for extensions which she has put towards a new home for her family.
"I cried at first when I was at the hairdressers to get it cut," she says. "I was afraid I wouldn't like it, and I was also scared I might not get the money I wanted for it.
"Getting it cut has given me a new life. I used to be afraid every time I went out that someone would grab my hair or try to cut it off, but now I can do a lot of things which I couldn't do before.
SEE ALSO:
"Now I'm having cycling lessons, and I've got my freedom back. I much prefer it. I want to learn English and Spanish, and I've been able to go to the beach and swim without being afraid of getting my hair wet."
It was an emotional moment for the rest of Natasha's family too. Her mother Catarina said: "I never put her under pressure to get it cut, but she was like a prisoner and wanted to do the things other girls her age do.
"It has given me back some freedom as I used to spend so much time looking after her hair."
The family is also now able to switch the fan on in the house, something previously impossible as Natasha's 5ft2in hair would get caught in it.
Natasha had not cut her hair since she was a baby, and was frequently complimented on her mane of thick, chestnut tresses.
Now it is as long as it was when she was just four-years-old.
She may have short hair now but Natasha's old fame as Rapunzel continues at school where everyone still uses the nickname.
"I thought it would stop when I had it cut, but people still stop me in the street. If I had a daughter of my own, she would also be a princess, but she would be Snow White, not Rapunzel. That would be much more practical," she said