One World Trade Center has become the tallest building in New York after steel columns were lifted onto the top of the "Freedom Tower".
The constructs have elevated the building six metres above the Empire State Building.
When the skyscraper is complete One World Trade Center will be the tallest building in North America by far, a 124m cable-stayed spire vaulting the construction to 541m tall, a bittersweet testament to endurance after disaster.
A view of the uncompleted One World Trade Center building from a street in New York
The twin towers that previously occupied the site were destroyed on September 11 2001, when two hijacked planes flew into the World Trade Centre. The terrorist attack brought the towers crashing down, killing 3000 people.
One World Trade Center towered over the New York skyline only a day before the anniversary of Osama Bin Laden's death, and the same day that the Empire State Building was unveiled in 1931.
Its symbolic relevance doesn't stop there. Designed to stand at 1,776ft tall once finished, its height marks the year American Independence was declared. A view of One World Trade Center from New Jersey
The construction of a building laden with symbolic meaning has been a mammoth undertaking, and fraught with disagreement since its inception.
Port Authority Executive Director Patrick Foye told a news conference on the top floors of One World Trade Center
"It's been a long difficult journey over many years to achieve this significant milestone.
"Not simply for the sheer physical challenges it has presented and there have been many, but also because of the emotional significance of this site."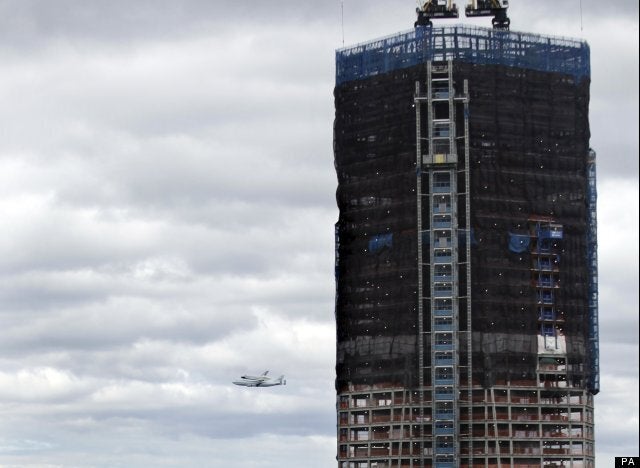 The construction of One World Trade Center continues
Building first began in 2006, however the years both before and after have been marked with political squabbles and budget altercations.
The current cost of One World Trade Center stands at £2.3 bn, almost double the figure estimated at the outset.
Security considerations have delayed building as well as the importance of designing a construct impervious to attack.
Battling through recession, One World Trade Center has had to negotiate inter-company bickering over which institutions should be housed in its first 90 floors.
The very top of the building is reserved for observation decks, while 10 floors are given over to air conditioning and electrics.
Take a look at some of the dazzling pictures below: