The London Marathon runner who died less than a mile from the finishing line was laid to rest today.
Claire Squires was buried alongside her brother in a private funeral service at St Andrew's Church in North Kilworth, Leicestershire.
The 30-year-old collapsed on Birdcage Walk near Buckingham Palace on 22 April. She had been running for the Samaritans, in recognition of the work done by her mother Cilla, who had volunteered for the charity for 24 years.
Donations to Miss Squires' JustGiving website jumped from £500 to more than £1 million in the week following her death.
Scroll down for more pictures of Claire Squires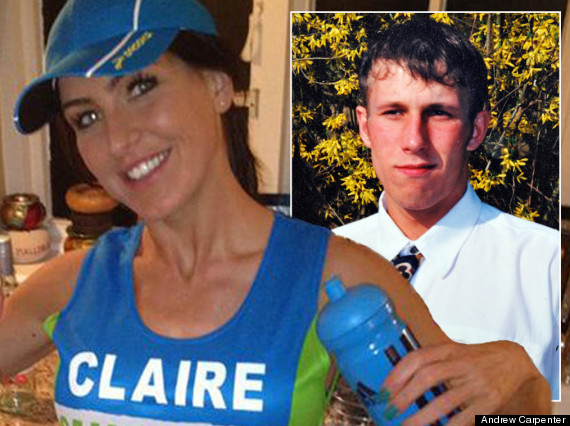 Claire Squires will be buried alongside her brother Grant, who died in 2001
Yesterday it emerged Miss Squires had been diagnosed with an irregular heartbeat but refused to let it stop her fundraising, The Sun said.
Tests were being carried out on her body to see if her condition contributed to her collapse.
A friend said: "It didn't stop her keeping extremely fit but it might have made a lesser person take a back seat and put their feet up. But Claire just got on with it. "
The hairdresser was buried alongside her brother Grant following the service, which began at midday.
Mr Squires died in 2001 after reportedly becoming depressed following the death of his girlfriend in a car accident, which he survived. An inquest recorded an open verdict into the 25-year-old's death.
SEE ALSO:
The funeral service will be conducted by the Rev Emma Davies, the parish vicar, alongside local Baptist minister Pastor Johnny Hutton.
Two hymns chosen by the family will be sung during the service.
Miss Squires' parents, Cilla and Paul, will attend the service with her three sisters, Maxine, Nicola and Penny, and her partner Simon Van Herrewege.
Mr Van Herrewege will be among family and friends who read tributes during the service.
The church seats 150 people, but arrangements were made to broadcast the service to well-wishers outside via a speaker system.
The family has asked that only relatives and friends send flowers, and donations in lieu should be made to Rainbows Children's Hospice in Loughborough, Leicestershire.