A website offering holiday discount vouchers has used a picture of Madeleine McCann to advertise a £20 off online deal.
The snap is one of the last ever taken off the toddler, who went missing in 2007. It features her smiling face above the strapline "Best Value".
The now expired deal, featured on VoucherDigg, offered £20 off bookings on a minimum £400 spend at lowcostholidays.com.
Among the breaks advertised is a self-catering family apartment in Albufeira, Algarve, 25 miles from the resort in Praia da Luz where Madeleine disappeared.
The promotion adds: "lowcostholidays.com can hardly give out this kind of offer. Hurry up for time is limited. Take the ones you loved and enjoy your life."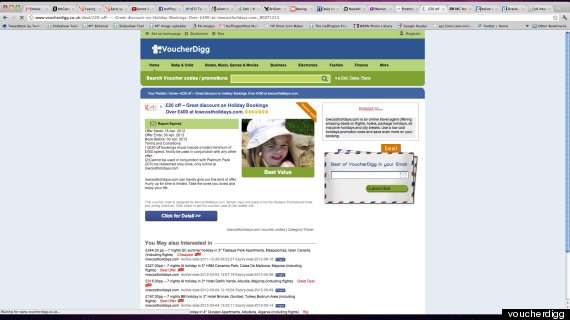 A screengrab of the £20 discount offer, featuring Madeleine McCann's smiling face
Lawrence Hunt, the boss of lowcosttravelgroup said he was "outraged" the image had been linked to his firm and that initial inquiries had traced the picture to a Chinese marketing company.
He said: "We have broken all the links from their site to ours and have contacted them to remove this content."
The use of the picture has been branded "appallingly insensitive" by a spokesman for Madeleine's parents Gerry and Kate.
SEE ALSO
Clarence Mitchell told the Daily Star: "This is an appalling use of Madeleine's picture and whether it is a result of hacking or a mistake, it must be removed immediately."
The paper adds that law firm Carter-Ruck has been contacted to remove the image "with immediate effect".
Users on a forum dedicated to the missing child have described the move as "disgraceful", "disgusting" and in "very poor taste".
Press queries from Huffington Post UK to VoucherDigg have not been answered.