Adele has continued her triumphant reign of this year's music awards by picking up another two gongs at the Ivor Novello Awards on Thursday.
The Someone Like You singer was awarded Songwriter of the Year by Annie Lennox to a standing ovation, and received the prize for Most Performed Work for her number one hit Rolling in the Deep.
The prizes follows on from her success at the Brit Awards, where she picked up Best British Female Solo Artist, and then capped the night with the award for Best British Album, for 21, as well as the six Grammy Awards she scooped in February.
Annie Lennox said: "This is what artists are truly about."
However, it was PJ Harvey - not Adele - who scooped the Best Album Award at the Ivors for her record Let England Shake.
Take That were also rewarded at the industry-focused awards for their Outstanding Contribution to British Music. The crowd - made up of artists and industry insiders - gave a standing ovation, as Gary Barlow, Howard Donald and Mark Owen came on stage to accept their statuettes.
Barlow said: "There's nothing like winning an Ivor as a songwriter... we love it."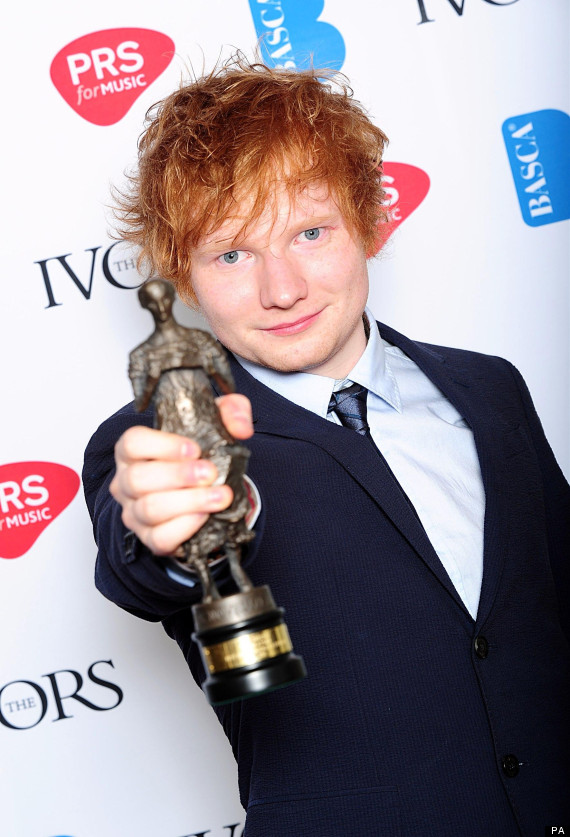 And Ed Sheeran won the Award for Best Song Musically & Lyrically for The A Team. As he accepted his statuette, he said: "It was always my goal to get [an Ivor]."
Meanwhile, Spandau Ballet songwriter Gary Kemp was awarded the prestigious Outstanding Song Collection Award, joining a list of winners before him that includes Freddie Mercury & Queen, U2 and Mick Hucknall.
Kemp said: "Receiving this Ivor for Outstanding Song Collection is the greatest honour of my career and I am absolutely blown away. It's the recognition from one's peers that makes this award so special and humbling.
"Thank you to the Academy. It's also made me feel very nostalgic for that 12-year-old boy, who in 1972 started writing songs alone in his bedroom and wondered if he was weird."
Kemp's career as a songwriter has spread over five decades as his band, Spandau Ballet, started out in the clubs of London in the late 1970s then exploded into the charts with Chant No.1 and To Cut A Long Story Short, before achieving massive global hits including Gold, True and Through The Barricades.
The prestigious 57th Ivor Novello Awards took place Thursday at Grosvenor House in London to celebrate excellence in British and Irish songwriting and composing.
See the full winners list below:
Songwriter of the Year - Adele
The Ivors Inspiration Award - Siouxsie Sioux
Outstanding Song Collection - Gary Kemp
Album Award - Let England Shake, PJ Harvey
Jazz Award - Stan Tracey
Most Performed Work - Rolling in the Deep, Adele
Best Contemporary Song - Video Games, Lana Del Rey
Best Television Soundtrack - Martin Phipps for The Shadow Line
Best Original Film Score - Alex Heffes for The First Grader
Outstanding Contribution to British Music - Take That
Best Song Musically & Lyrically - Ed Sheeran for The A Team
Lifetime Achievement - Mark Knopfler
Special International Award - Jimmy Webb
BASCA Fellowship - Andrew Lloyd Webber