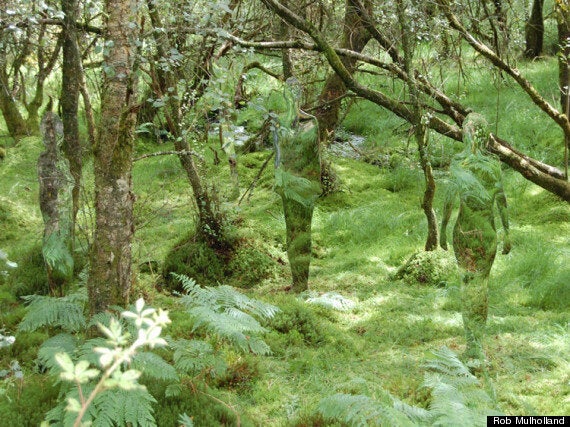 Vestige by Rob Mulholland
Glasgow-born conceptual artist Rob Mulholland has installed a new artwork in a Scottish forest that you could easily miss - even if you were to walk past it.
His project, Vestige, involves six human-shaped mirrors installed in Stirlingshire that reflect the environment around them.
Aside from confusing the odd squirrel, Vestige is designed to represent centuries of past inhabitants of Scotland.
Rob explained to HuffPost UK: "Within the forest you can still see some faint outlines of the crofts and past settlements that once were there.
"This intrigued me, and I wanted to find a visual form that would represent the past inhabitants of this land.
"The six male and female figures represent a faint trace of the past people and communities that once occupied and lived in this space.
"The figures absorb their environment, reflecting on their surface the daily changes of life in the forest. They create a visual notion of a void, as if they are for one moment part of our world and then, as they fade into the forest, they become an intangible outline."
50-year-old Rob was commissioned by the Forestry Commission to create Vestige, which will be seen - or not - by 250,000 annual visitors to the David Marshall Lodge Visitors Centre in Stirlingshire.
Later this year, Rob is rolling out the concept to other part of the UK, including a shore-based installation at Caol Ruadh Sculpture Park in June that will see mirror figures installed in the sea.
Related