Three-time Olympic sailing champion Ben Ainslie has kicked off the London 2012 Olympic torch relay, saying it was "one of the more nervous moments of my life".
Fresh from winning his sixth world title, Ainslie was up in the early hours to complete the first leg of the relay at Land's End in Cornwall. He decided to walk his 300m leg and soak up the experience.
Ainslie happily paused and waved so the cheering crowd of all ages could take photographs. Many of whom had risen at 4am to make the trip and waved flags to support the first torchbearers.
Ainslie, 35, said: "I did all right, at least I did not trip over. I did not really want to rush it. I wanted to give everyone the chance to touch the torch. It is one of those moments in your life where you are just in shock. It was an amazing moment. I was very proud obviously to help kick start this period in the run-up to the Olympics. It was probably one of the more nervous moments in my life but it is so special for everybody to see the Olympic torch."
Being the first person to carry the Olympic Flame on home soil would also be a treasured memory, added Ainslie, who is aiming to win his fourth successive gold medal on home waters at the London 2012 competition at Weymouth and Portland.
He said: "I would say that particular moment ranks right up there with winning a gold medal. It was incredibly special."
The Olympic Flame touched down at RNAS Culdrose on Friday and was flown to the UK's most westerly point by a 771 Naval Air Squadron Sea King helicopter for the start of the relay. Lieutenant Commander Richard Full carried a lantern to the world-famous First and Last signpost at Land's End, where the first torch was lit in front of the cheering crowds.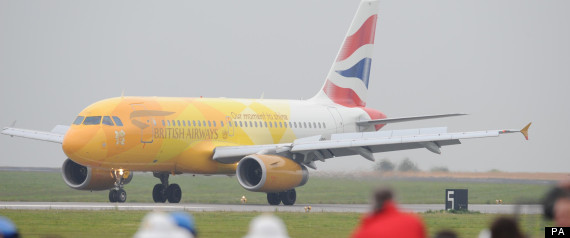 Above: The BA2012 as it arrived in Cornwall
The relay, which involves 8,000 torchbearers carrying the flame 8,000 miles to the opening ceremony on July 27. The torch relay travels nationwide and aims to bring the Olympic Flame to within 95% of the UK population.
It follows a handover ceremony in Greece attended by London Mayor Boris Johnson and footballer David Beckham.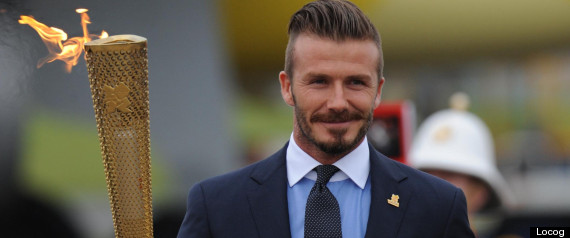 Above: David Beckham with the Olympic torch
Ainslie passed the flame on to 18-year-old Anastassia Swallow from St Ives, who said she wanted to take it slowly to take it all in but she got "a bit excited and a little crazy and ran too fast".
There are 139 torchbearers carrying the flame a total of 136 miles on the first day of the relay which will end with an evening celebration at the Hoe in Plymouth.
SEE ALSO