The search for a decent pen is an endless - and probably - futile task, which has bewitched men and women for generations.
From the ancient quest to find a shard of chalk with just the right kind of crumble with which to accurately scrawl an ox on a cave wall, to Elizabethan travails over quills and the irate birds from whence they were plucked, it's never been easy to find a decent something with which to jot something down.
More so these days, when an increasing amount of our notes, ideas and jottings are made with smartphones and tablets.
As a result finding a pen which copes with both paper and touch screens has never been as difficult. (Unless, maybe, if you have a Galaxy Note.)
Enter the Wacom Stylus Duo - a touchscreen input device whose defining feature is that it also includes an actual pen in the other end.
Now. At first this might sound like a strange niche to fill. How often, you might wonder, do you need to write something on paper while messing around with an iPad? How regularly is it necessary to sketch something on a Asus Transformer while penning your latest missive to a loved one on rose-scented paper?
Well, all the time as it happens. Because unlike the people in tech adverts, we - you - I live in the real world.
Tablets are good for some things - among them the latest range of drawing apps (Paper) and social scribe games (Draw Something). But paper is also amazing. It's light, cheap, omnipresent, disposable, foldable, malleable and fun to write on. Both can be used. Both should be used. At once.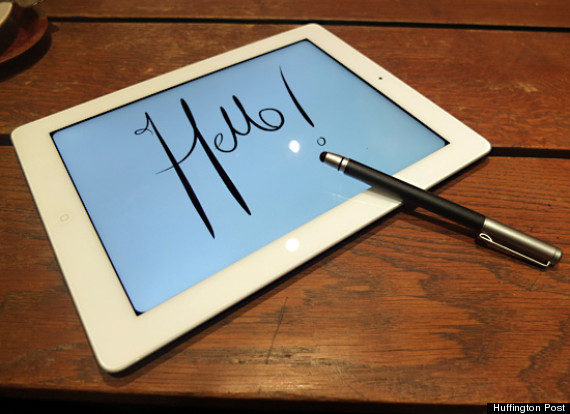 So how does the Bamboo Duo perform? Pretty great, it turns out.
Wacom's pedigree in graphic drawing doodads is near unmatched. The company owns the graphic design tablet market, from consumer to pro levels, and has a good track record in producing styluses for tablets too. Even on its less central products, like the Duo, it keeps production values high.
As such the Duo has all of the plus points of its previous, multi-colour, tablet-only, forebear - including its sensitive (albeit round and slightly squashy) rubber tip, its solid metal construction and its sturdy build. We also found the Duo's weight and balance basically perfect. The ink pen was swift and light to write with, even if the nib did feel (slightly) cheap. Reports abound online that they tend to wear out fairly quickly too - though we didn't notice any degradation after a week of heavy use. And the clip was strong enough not to worry you when nervously fiddling with it while on the phone, the tube, or attempting to look like you enjoy Sudoku around the breakfast table.
This is a strong, sturdy, useful little doodad which if you need, you'll love.
Essentially, if you've ever vaguely wondered if having a pen and a stylus in one device would be useful, and if you're prepared to pay a fairly high price (£25-ish, depending on where you go) for the privilege, the Wacom Stylus Duo is exactly as useful as you'd hope it would be.
So for now - and for a very specific type of person - the Duo is sort of the perfect pen. Until the Wacom Bamboo Quatro comes out in a couple of months with a fountain pen and laser pointer also built in. Now that we'd like to see.