Robert Mickelsen's glass sculptures are stunning in their own right, but they also serve as a reminder that sometimes, the real beauty is in the craft.
It's taken the 61-year-old almost 40 years of building his skills to reach the point where he can even attempt these highly delicate, intricate designs.
"I have been a professional glassworker since 1974," he explains to HuffPost UK.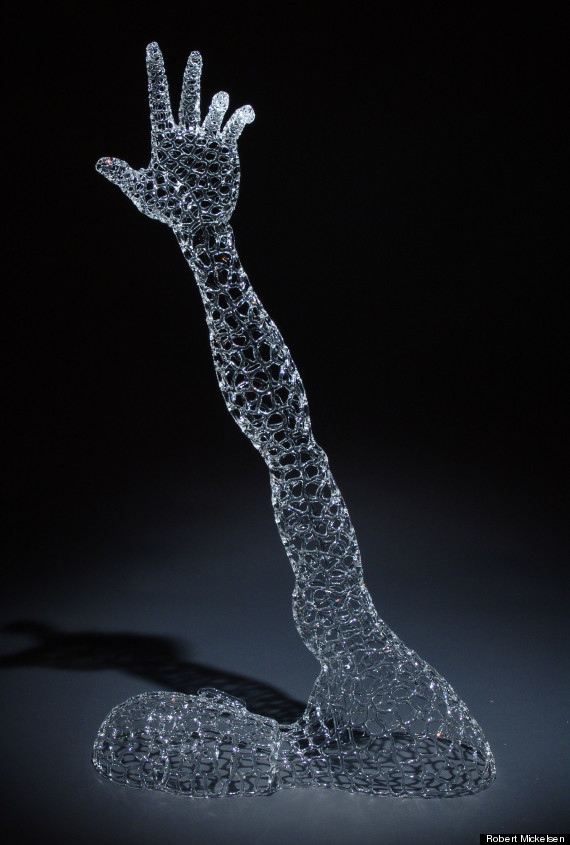 Breakthrough, by Robert Mickelsen
"I started out doing flea markets and small craft fairs with small, quickly produced items.
"As the years passed and my skills increased, so did my ambition to make more significant work."
What's remarkable is that Mickelsen had no formal training in art whatsoever.
"What I have learned I have learned through experience and over 100 art books," he says.
Mickelsen's technique involves slowing building shapes out of very small fragments of glass - a process he calls 'networking' because the resulting surface resembles a net.
"Doing it this way allows me to build very large organic forms, precisely because the individual pieces of glass are all very small and do not hold a lot of stress.
"This allows me to construct the entire piece "cold", only working the tiny strand I happen to be bending at the time while the rest of the piece rests at room temperature.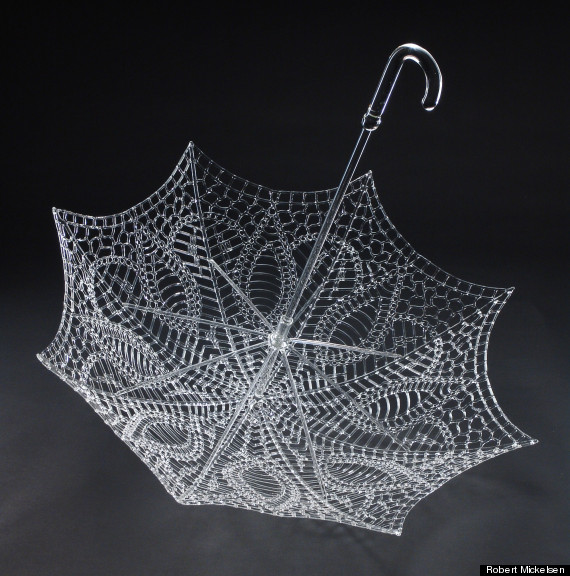 Parasol by Robert Mickelsen
"I can work for days, weeks, even months on a piece with no worries about it cracking because of heat stress."
Mickelsen, who was born in Virginia but raised in Hawaii, is refreshingly unpretentious about his work.
When we ask him, via email, what kind of reaction his sculptures have produced in people, his answer focuses on how willing they are to stump up and buy a piece, rather than fawn over it on their way out the door.
"The response has been mixed," he says.
"In spite of my deep enthusiasm, the pieces look very fragile and this does not encourage sales."
Thankfully this hasn't deterred him from continuing to push the boundaries of glass art.
"I just plan to keep on making the best work I can and enjoying life. This is what I do and hope to do until I cannot anymore. It is what I live for."
Robert Mickelsen's sculptures are currently exhibiting at the Boca Museum of Art in Florida until the 14 October.