Two fishermen who appeared to have caught the largest shark in British history off the coast of Cornwall face the possibility that it may not be recorded after they chose to let it go.
Wayne Comben and Graeme Pullen were angling near Boscastle, only a few hundred yards from the coast, had an encounter with vast shark, which is estimated to have weighed near 550lbs (250kg).
While the two were doing some casual angling in their boat, the Hi Sea Drifter, the shark suddenly pounced on their bait, snagging on Mr Comben's line.
Describing the moment the shark emerged from the water, Mr Pullen said: "This enormous shark ripped through the surface, thrashing its tail and fins about and went into a feeding frenzy.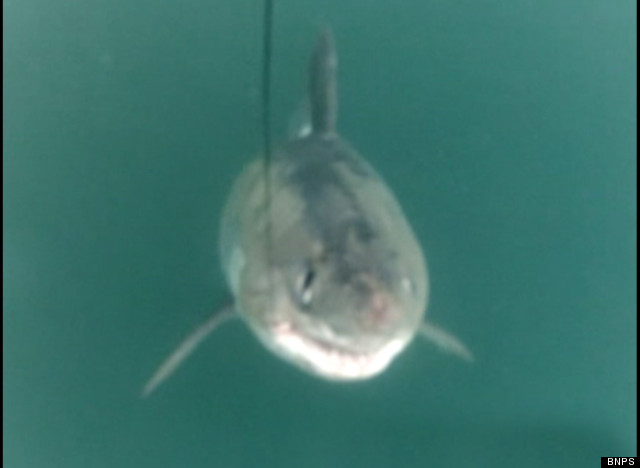 The shark snags itself on Mr Comben's line, as captured by the boat's underwater camera
"It took our mackerel bait and got our small hook in the corner of its mouth and dragged us for a mile towards the Atlantic."
After an hour's wrestle with the beast, Mr Comben was able to reel the animal close enough to the boat to take some amazing pictures, before the shark was tagged and released back into the water.
"It was about 10ft long and was easily 550lbs. Even if we had more men, we would have needed a bigger boat to bring it on board," Mr Comben said of the shark, which was a Porbeagle, a similar breed of shark to the Great White.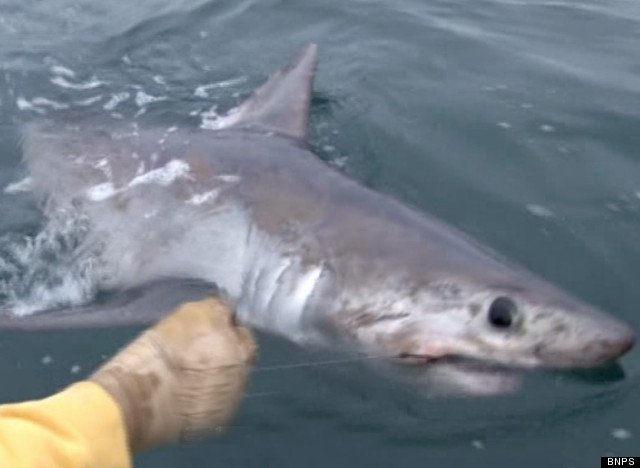 The shark "ripped" through the surface, catching the two fishermen by surprise
Fortunately for the two men, they were able to capture the huge shark on video and on pictures through the boat's underwater camera.
The shark has been estimated to easily beat the current record, which stands at 507lbs for a shark caught in 1993.
However, as the two men released the shark back into the sea rather than capture it, their catch stands to only go down as a "notable" fish as opposed to a record as they were unable to bring the shark to land for official measurement.
You can see plenty more pictures of the incredible catch in our slideshow below...