London police were warned about the behaviour of a porn star actor and suspected killer six months before he allegedly murdered a lover and sent the body parts to political party headquarters in Canada.
He is also believed to have emailed the paper saying: "Once you kill and taste blood it's impossible to stop" and " killing is different than smoking... with smoking you can actually quit." Police were warned about Luka Rocco Magnotta six months before the killing
Despite the alert Met police said it was outside of their jurisdiction.
On Friday morning a Met police spokesperson said: "The MPS did not liase with the authorities abroad.
"It had not been possible to glean information regarding any specific locations within North America or the Netherlands and as such there was no specific local force to pass any intelligence to."
Magnotta, 29, is now the subject of an international manhunt and is suspected of stabbing a man, dismembering him and eating his flesh before sending his body parts to two political parties in Canada.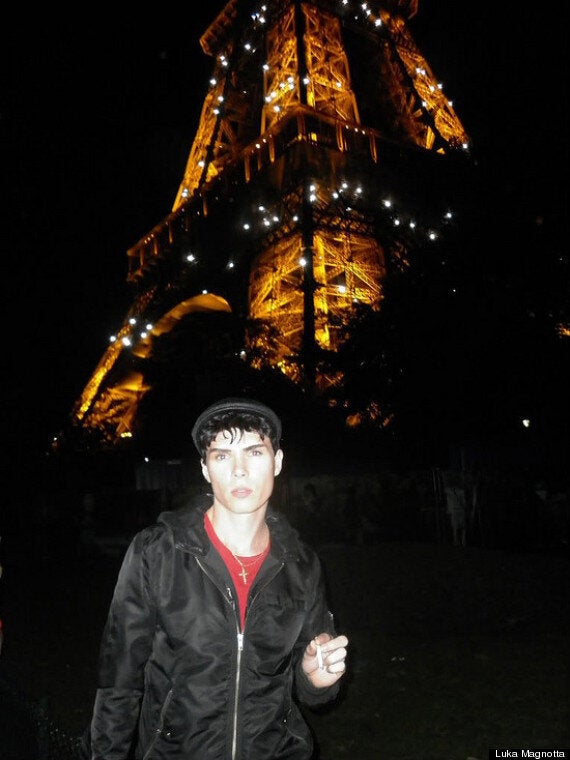 An earlier image of Luka Magnotta in Paris, France, from his personal website
The paper quotes Canadian police's Ian Lafreniere saying: "This wasn't a random act. The two were a little more than friends. All our indications are that the two body parts are linked to our homicide here. We are waiting for DNA confirmation."
He is believed to have sent a human foot to Canada's Conservative party's headquarters in Ottawa and to have sent a package containing a hand to the Liberal party of Canada, which was intercepted before delivery. Police found the headless torso of his victim behind his Montreal apartment earlier this week.
Police said on Thursday night: "We found, also, a letter that was posted on a website making us believe he might be gone out of the country."

Images of Magnotta he posted online
The bissexual suspected killer is now on a list of Interpol's most wanted people, and is suspected to be on the run, heading for Europe.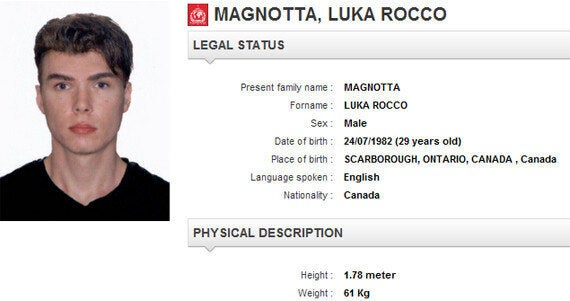 The bissexual suspected killer is now on a list of Interpol's most wanted people, and is suspected to be on the run, heading for Europe.
Roger Renville tipped off Tornoto police about what he had seen, but said they ignored his warning.
"He told me that my story didn't even make sense. Why would a killer film himself and then put it on the internet? He said, 'That doesn't make sense, that's illogical,'" he claimed.
"What I saw in that video exceeds your worst nightmare. It's Jeffrey Dahmer-esque."
Magnotta had a large online presence including articles about how to completely disappear and tips on how to get into porn.
Toronto police said they were looking into the claims. A mattress and sofa reportedly taken out of the apartment of Luka Rocco Magnotta
An old girlfriend, quoted psuedonymously about Magnotta claimed: "He always wanted to be famous.. I guess now he is."