When Damien Hirst unleashed his diamond-encrusted skull onto an unsuspecting public in 2007, most of us gasped in horror at the sheer vulgarity of an artwork that cost £14m to make and was quickly valued at almost four times that amount.
Sculptor Jeremy Mayer's latest creation bears striking resemblance to Hirst's For the Love of God, but no one could accuse it of being ostentatious – it's made entirely out of parts from old typewriters.
This isn't the first time Mayer's penchant for typewriters has caught our eye. Earlier this year we marveled at his typewriter penguins, dogs and human figures.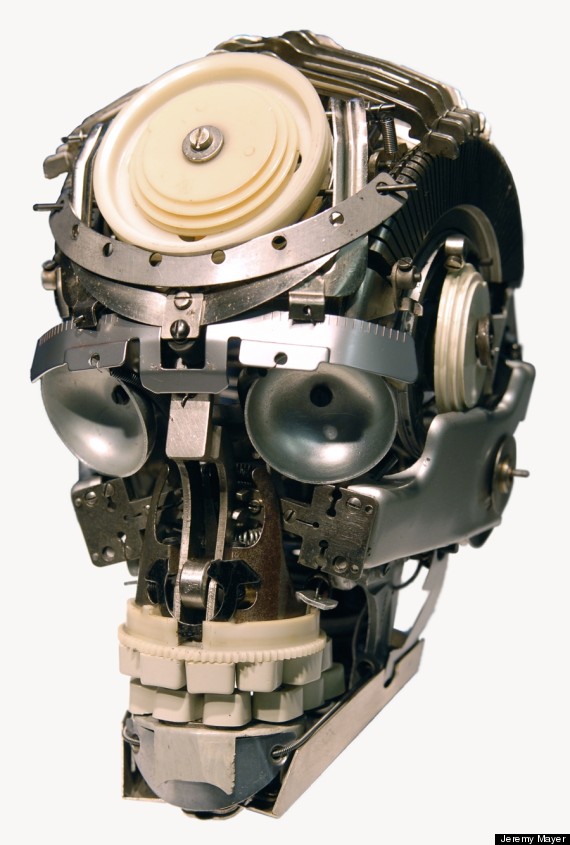 Jeremy Mayer's typewriter skull
But his latest piece is, from what we've seen, maybe his greatest yet – an intricate, oddly-memorizing structure that is also remarkably lifelike given the paucity of materials at his disposal.
"I've always thought of the components [of typewriters] as very similar to anatomy, so most of my work skips around between representing skeletal, muscular, or surface anatomy," Mayer told us via email.
"The scale of the typewriter is directly proportional to the bodies of people; very organic and biological shapes exist in the typewriter's design.
"I like to pull all of that back together to show that what we make resembles us in ways we might not casually have noticed. I found a skull scattered about in the parts and pulled it out and put it together."
40-year-old Mayer has no formal art training, but has been selling art since he was 14, picking up skills along the way working as a graphic designer, sculptor's assistant and even a stained glass restoration expert.
But what does the Californian make of the comparisons with Britain's resident multimillionaire art superstar?
"I've been asked about comparisons to Hirst's diamond skull before. It's the same theme of death and maybe transition," he says.
"But they're very different in that I made this skull with my own hands - and that I won't be buying it from myself."