Two hotel workers accused of murdering honeymooner Michaela McAreavey watched on as her husband cried out for someone to save his bride, their trial has heard.
A cleaner who claims he saw the defendants emerge from the luxury hotel room in Mauritius where the Co Tyrone teacher died shortly after hearing her scream, told court the pair returned to the scene soon afterwards as crowds gathered.
Prosecution witness Raj Theekoy said the accused - Sandip Moneea and Avinash Treebhoowoon - ran with him to room 1025 of the exclusive Legends Hotel when the alarm was raised that something was wrong.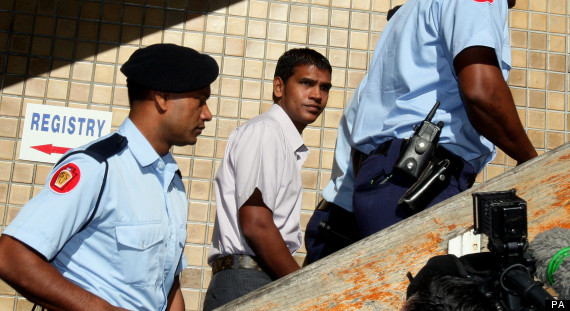 Avinash Treebhoowon, 30, arrives at the Supreme Court in Port Louis, Mauritius
Testifying at the Supreme Court in Port Louis, Theekoy said they had followed a sprinting hotel manager Brice Lunot and other staff as they rushed to the room.
"I went to room 1025, the door was open, I saw the dead body of the lady lying on the floor," he said.
Theekoy said Lunot tried to compress Mrs McAreavey's chest as her distressed husband John called out.
"He was crying and said, please save my wife," he said.
The witness said he and the two defendants did not enter the room and were soon told by Lunot to leave the scene.
Theekoy later had his account of the day vigorously challenged by a defence lawyer. Under cross-examination it emerged that he called his wife minutes after he heard the cries from room 1025, despite telling police he initially told no-one.
Fellow Legends cleaner Treebhoowoon, 31, from Plaine des Roches, and floor supervisor Moneea, 42, from Petit Raffray, deny strangling the 27-year-old daughter of Tyrone gaelic football boss Mickey Harte in the gated beach-side complex last January.
The prosecution claim the newlywed momentarily left her husband beside a pool to fetch biscuits from their room when she walked in and caught the two defendants stealing.
Theekoy, who gave evidence in his native French Creole, was originally arrested as a suspect in the case and subsequently charged with conspiracy to murder. But that charge has since been dropped and he has been granted immunity from prosecution.
Earlier he told the jury in the high-profile trial of the moment he claims he heard Mrs McAreavey scream out in pain from behind the closed door of room 1025.
"I started hearing a woman screaming three times, aghh," Theekoy said.
"She was screaming in pain."
He said he was scared and initially thought a husband and wife were having a fight.
But then he claims he saw the two defendants emerge from the direction of the room as he hid by room 1021. It was around 2.45pm on 10 January 2011.
Mrs McAreavey's sister-in-law Claire McAreavey and father-in-law Brendan McAreavey watched from the public gallery as the key prosecution witness testified to a silent court room.
Her widower John remains elsewhere on the island, unable to attend proceedings until he is himself called as a witness.
A short time before the murder, Theekoy claims he was cleaning room 1012 when the two defendants walked in. He alleges that Treebhoowoon told Moneea that a Do Not Disturb sign was still hanging outside the McAreaveys' room.
The room attendant told police that Moneea then called the room to see if there was an answer.
With no-one picking up, Theekoy said Moneea sent Treebhoowoon to clean the room, with the supervisor exiting behind him five minutes later.
About 50 minutes later, Theekoy told court he headed toward 1025 to find Treebhoowoon.
But when he got there he noticed the door was shut, with Treebhoowoon's cleaning trolley outside it, and then he heard a woman cry out.
Theekoy, a married father of one, conceded that from his viewpoint at 1021 he did not have a clear view, as it was along an L-shaped corridor from 1025.
However he insisted he had a view of the defendants' side profiles when they emerged, with Treebhoowoon turning to face him at one point.
"I saw them but they didn't see me," he said.
Theekoy said both men looked anxious and Treebhoowoon's face appeared wet.
"He wiped his face with his hands," he added.
The 35-year-old former hairdresser said he then left the vicinity of 1021 and went to room 1011. A short time later he said Treebhoowoon came in.
"I asked him what happened in 1025 and he said nothing was wrong," he recounted to the jury of six men and three women.
Theekoy said his fellow room attendant then told him he had to go and get the tyre of his service trolley pumped up, even though it did not appear to be flat to him.
He said he then saw Treebhoowoon and Moneea talking together in a corner but he could not hear what they were saying.
Soon after the alarm was raised when Mrs McAreavey was found dead - prompting the three of them to run to 1025.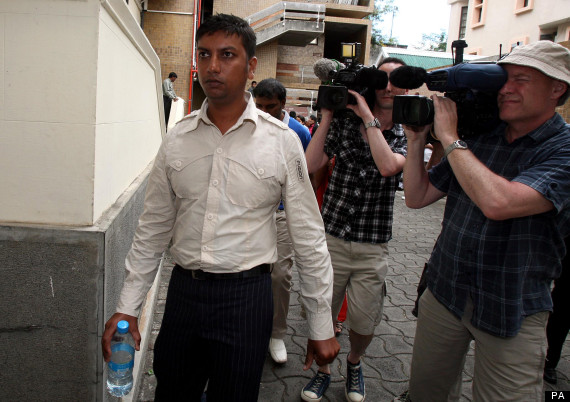 Raj Theekoy room attendant at the legends hotel and witness for the prosecution leaves the Supreme Court
After being told to leave the scene, Theekoy said he again confronted Treebhoowoon, this time on the grass behind the hotel building.
He said he challenged him: "I asked you just before what happened in room 1025, so what's that?"
Theekoy said Treebhoowoon did not answer him but Moneea then intervened and threatened him.
The witness told judge Mr Justice Prithviraj Fecknah the accused warned him: "If you open your mouth I will involve you in that case."
He said he did not originally report what he saw because he was scared at this threat.
When he was arrested by police the following day he also did not give them any details.
Theekoy said a brief meeting with his wife and mother during a court appearance the next day convinced him to reveal all.
"They said to me if you know anything in that case don't be afraid to say the truth," he told the jury.
Theekoy said he then plucked up the courage to tell police.
After giving his testimony to the prosecution, Theekoy faced a series of probing questions from Rama Valayden, a lawyer for Moneea.
There were audible gasps from sections of the public gallery when the barrister produced phone records that showed he had called his wife at 2.47pm on the day of the murder - a time when according to his statement he was hiding near room 1021 waiting to see who would emerge from 1025.
The witness did not reveal what he was talking to his wife about but he was challenged by Valayden to explain why the phone call was not in his police statement.
Theekoy said neither detectives nor lawyers had asked him about calls he made when the statement was made.
The barrister then questioned why he had not contacted reception or management when he heard the cries.
The witness said he thought it was a dispute between guests and that he did not need to report it.
Valayden went on to question him about room 1021 and the fact that hotel key card records showed that the guests staying there had entered it around 2.45pm.
"I didn't see," Theekoy replied.
He was then challenged to explain how in his police statement he had claimed he had seen John McAreavey beside the bathtub in room 1025. Valayden said the tub was not visible if you were looking in from outside the room door.
"No, I didn't say that," responded Theekoy, claiming it was possible that police had made an error recording his account.
Giving his evidence to the prosecution, Theekoy said Treebhoowoon's trolley had been left outside 1025 when he first approached the room - a fact he was able to establish because his name was on it.
Valayden put it to the witness that in that very month the hotel had brought in a new type of trolley that did not have staff names on them.
He was also asked why key cards showed he had entered other rooms in the morning only to return to them in the afternoon.
Theekoy said he did not recall that. He denied he had given his access card to anyone else on the day.
Theekoy told the lawyer he had been granted immunity three months after the crime - at a time when he had already been released from prison on his original charge.
Earlier, state prosecutor Mehdi Manrakhan had asked the room cleaner about his job at a pervious hotel before he joined Legends.
He said there had been an issue when he was found with a bottle of wine, but he insisted he had not stolen it and highlighted that his boss gave him a recommendation when he left.