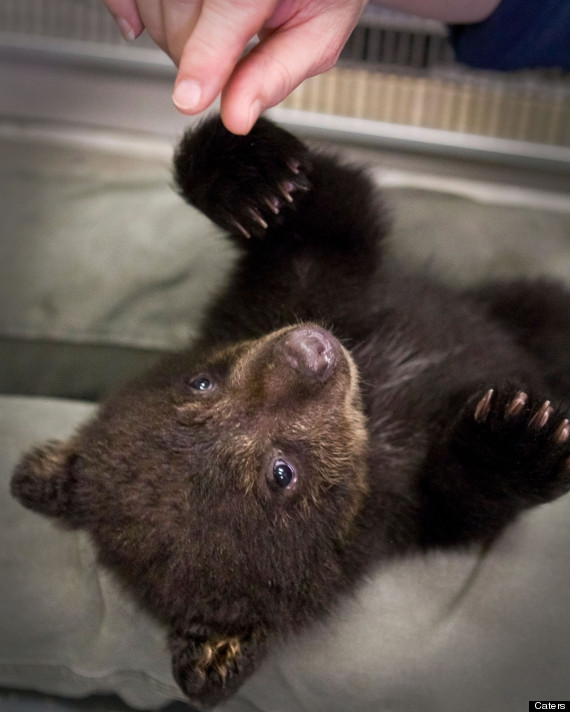 This baby bear was plucked from his home in Oregon woodland by a teenager who wanted to keep him as a pet
A teenager got more than he bargained for after plucking a black bear cub from the wild because he wanted to keep it as a PET.
The unnamed teen found the cub – which could eventually grow to 6ft tall and 600lbs - in Oregon woodland and illegally took it to his family home. Thankfully the baby bear was promptly taken to the state's Wildlife Images Rehabilitation Centre.
The centre contacted Michelle Schireman, a zoo-keeper with experience in taking in orphaned cougar cubs.
Schireman has regularly fostered cougar cubs that are unable to survive in the wild without their mothers and has found zoo homes for 75 orphaned cougar cubs over the past few years.
But the two-month-old black bear, which at the time weighed about 4lbs, was very different to anything she has looked after at home before.
Scroll down for more pictures of the bear cub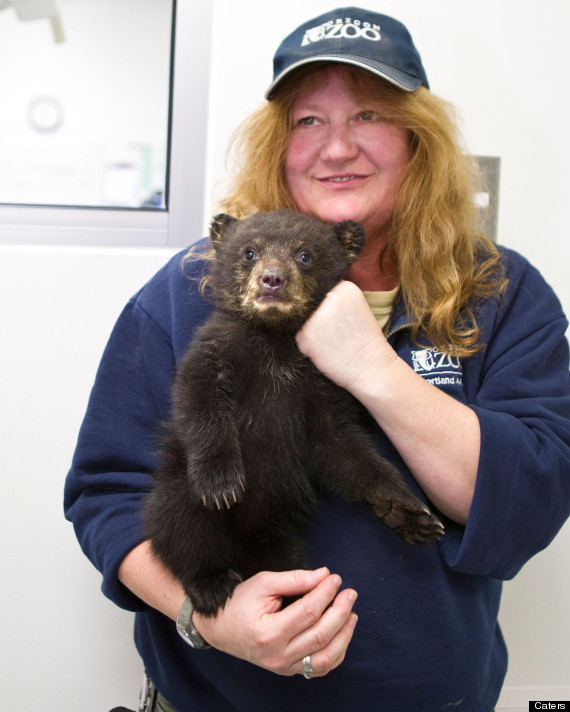 Michelle Schireman tries to keep hold of the squirming baby bear
She said: "I got a call from the Department of Fish and Wildlife at home on my day off and they simply said 'Michelle, we need your help.'
"A couple of days later, a furry black animal about the size of a Labrador puppy wobbled around my boots looking confused.
"He quickly latched on to a nearby cuddly toy beaver so he looked pretty harmless - but the sharp teeth and long claws were a bit of a giveaway.
"I'm usually the first person fish and wildlife departments call when orphaned cougars are found in the wild as young cougars can't survive without their mothers.
"I work with accredited zoos to find them new homes which is the reason they believed I might be able to find a home for this young bear cub too.
"I got permission to house the cub at the zoo's Veterinary Medical Center during the day then took him home with me at night as he needed around-the-clock care.
"It wasn't long before I found a home for him at the NEW Zoo in Wisconsin, which is already home to an adult black bear named Winnie. The little cub now goes by the name Aldo.
"I'm glad they were able to find a home for him so quickly. When ODFW called, I told them the Oregon Zoo already had a full house with four black bears. But I hoped there was a zoo out there and I'm thrilled they could take him in.
"But not as much as my dogs Rogue and Fergus who didn't know what to do when he was around them."
Black bears are omnivorous and have a diverse diet including fruit, plants, berries and grasses and they are not usually active predators. Oregon is home to about 30,000 black bears which are North America's most common bear species.
The Oregon Department of Fish and Wildlife fired a warning to other people who might be tempted to take a bear home with them.
Spokesperson Meg Kenagy said: "If you see a young animal alone leave it where it is. It's likely that its mother is nearby - most animals leave their young to forage or hunt.
"Removing a young animal from the wild is illegal and greatly reduces the animal's chance of survival."