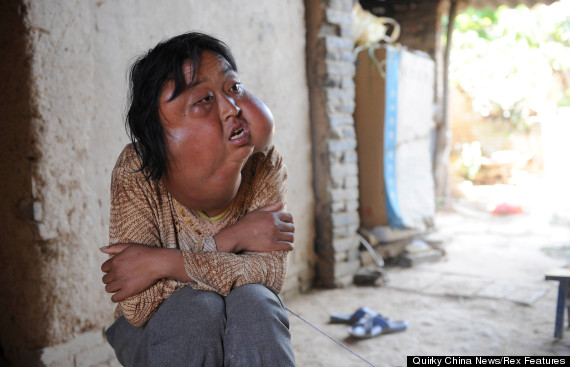 Li Hongfang suffers from chordoma, a condition which causes abnormal masses of tissue to grow
A woman whose face has been left disfigured by tumours has told how she tries to soothe people who are scared of her by telling them: "I am just ill. Please, I am not a monster."
Li Hongfang was once a beautiful woman, but in 2001 her features became distorted by mysterious tumours.
UPDATE: 'I'm Still Too Frightened To Look In The Mirror': Chinese Mother Receives Free Surgery To Remove Disfiguring Tumours
The first growth appeared on her forehead, but because it was just the size of a fingernail, Li paid it little attention.
However, the bump continued to grow and in 2005 she underwent surgery to remove it.
But, not long after more bumps appeared on the 40-year-old's face and she was diagnosed as suffering from chordoma, which causes abnormal masses of tissue to grow.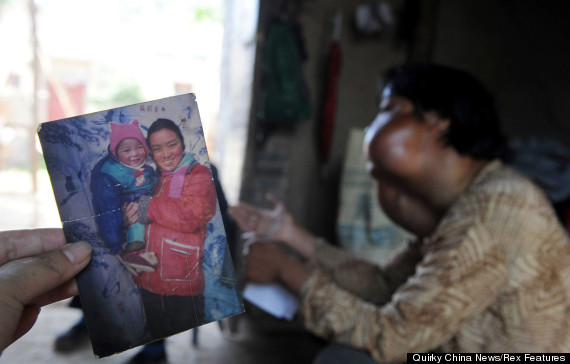 Li, pictured here with one of her children, was once a great beauty
Doctors say the surgery will cost 600,000 Yuan (£60,000 or $94,000), which the family, from Tianchao village, Xianyang, northwest China's Shaanxi Province, cannot afford.
Having already used up all of her savings, Li often goes begging in larger cities in an effort to raise money for treatment.
Her face has now become totally distorted by seven masses and her neck is so swollen it hangs down to her chest.
SEE ALSO:
She finds it very difficult to eat and survives on bread soaked in water.
She said: "I know I must live on, for my mother-in-law, and for my children, and for this family. I must live on".
Many of Li's fellow villagers see her as a bad omen and gossip that her husband, Guo Yingping, will leave her.
However, Guo saves every penny he earns as a labourer for Li's treatment.
Li said: "I am actually very lucky. My mother-in-law loves me as a daughter. My husband gives me love, and my children gave me a lot of happiness".