Chris Brown has reportedly been involved in a bar brawl.
Details are currently unclear, but things definitely went down in a New York club last night, as Chris tweeted a picture of his face showing a cut on his chin, caused by a bottle that was allegedly thrown at the star.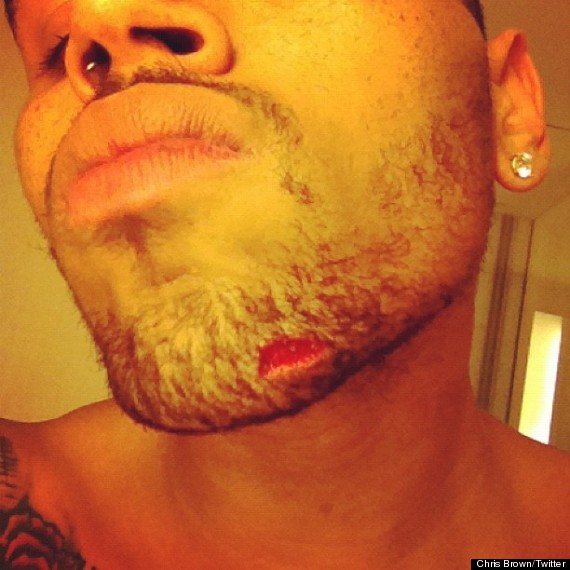 Taking to Twitter he wrote: "N*ggas throwing bottles! Y'all n*ggaz weak!
"Bottles? It's nothing! Lol.
"N*ggas is pussy," he added.
Charming.
"How u party with a rich n*gga that hate? Lol.... Throwing bottles like girls? #shameonya!"
However, he has since removed all the tweets from his page.
Rumours are rife on Twitter that rappers Meek Mill and Drake - who Chris collaborated with on the single Yamaha Mamma - were involved in the brawl but nothing has been confirmed.
Rapper Drake was reported to have been involved in the brawl
Chris has had beef with Meek Mill in the past, as they recently had a Twitter spat after Chris found out Meek had been romancing his ex Rihanna. Meek Mill has previously had an argument with Chris Brown
Meek started it off after he tweeted, but deleted: "You took me off ya song cause she let me watch the throne #dreamsandnightmares," which referenced Rihanna joining Kanye West and Jay-Z on stage.
Chris responded: "She's a dream chaser! There are a lot of dream chasers so she'll be running forever," to which Meek replied: "Dese chicks belong to the game... not u! Never get confused and think that's all u!"
At this point, Drake then got involved, and Chris concluded it all by saying: "Id like to send the bullshit a BIG F**K YOU from the bottom of my ballz! Lol.. Real nigga! Goodnight!"
> CELEB PICS OF THE DAY