The playlist for the London Olympics opening ceremony has reportedly been leaked.
However, the newspaper, who got their hands on the list, said Olympic officials won't confirm that the leaked playlist will be the musical accompaniment when the Olympic Games officially commence on 27 July.
The wide range of songs in the collection - from London Calling by The Clash to Land Of Hope And Glory -, have a patriotic feel and seem a perfect fit for the opening ceremony.
Listen to just some of the 86 songs in our Spotify playlist below and see the full list further down the page. Is there anything you think is missing?
Boyle recently revealed London 2012's opening ceremony will see the Olympic Stadium "transformed into the British countryside", with an opening scene dubbed 'Green and Pleasant'.
The Slumdog Millionaire director also cited Shakespeare's comedy The Tempest as inspiration behind the ceremony.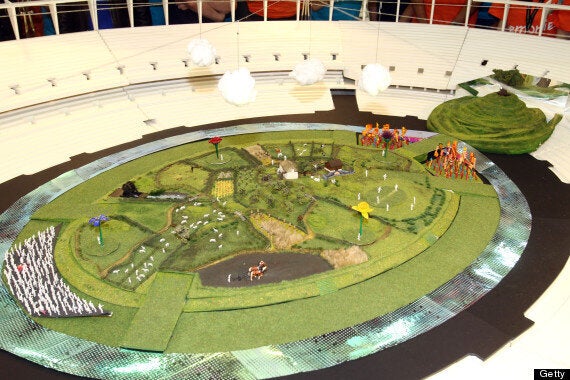 Included in our Spotify playlist:
The Jam - 'Going Underground'
Muse - 'Map of the Problematique'
Sex Pistols - 'God Save the Queen'
The Clash - 'London Calling'
Sugababes - 'Push the Button'
David Rose - 'The Stripper'
Rizzle Kicks - 'When I Was a Youngster'
Eric Clapton - 'Wonderful Tonight'
The Who - 'My Generation'
The Rolling Stones - 'Satisfaction'
Millie Small - 'My Boy Lollipop'
The Kinks - 'All Day and All of the Night'
The Beatles - 'She Loves You'
Queen - 'Bohemian Rhapsody'
Sex Pistols - 'Pretty Vacant'
Duran Duran - 'The Reflex'
New Order - 'Blue Monday'
Frankie Goes to Hollywood - 'Relax'
Soul II Soul - 'Back To Life'
Happy Mondays - 'Step On'
Eurythmics - 'Sweet Dreams (Are Made of This)
Adele - 'Rolling in the Deep'
Mark Ronson & Amy Winehouse - 'Valerie'
Franz Ferdinand - 'Take Me Out'
Kaiser Chiefs - 'I Predict a Riot'
Also on the suspected opening ceremony playlist:
The Verve - 'Bittersweet Symphony'
Underworld - 'Born Slippy'
Jaan Kenbrovin, John William Kellette - 'I'm Forever Blowing Bubbles'
Dizzee Rascal - 'Bonkers'
Tigerstyle - 'Nacnha Onda Nei' (contains Michael Jackson - 'Billie Jean', Queen & David Bowie - 'Under Pressure' and Ilaiyaraaja - 'Naanthaan Ungappanda')
Arctic Monkeys - 'I Bet You Look Good on the Dancefloor'
Kano & Mikey J - 'Random Antics'
Tinie Tempah - 'Pass Out'
Coldplay - 'Viva La Vida'
The Chemical Brothers - 'Galvanize'
Roll Deep - 'Shake a Leg'
Oasis - 'The Hindu Times'
William Monk/Henry Francis - 'Abide With Me'
Eric Spear - Coronation Street Theme
Ron Grainer - Doctor Who Theme
John Philip Sousa - Monty Python Theme/'The Liberty Bell'
David Bowie - 'Absolute Beginners'
Elgar/AC Benson - 'Land of Hope and Glory'
Simon May - EastEnders Theme
Sir Hubert Parry/William Blake - 'Jerusalem'
Handel - 'Arrival of the Queen of Sheba'
Eric Coates - 'Dambusters March'
Handel - 'Music for the Royal Fireworks'
Monty Norman - James Bond Theme
Mike Oldfield - 'Tubular Bells'
Mike Oldfield - 'In Dulci Jubilo'
Vangelis - 'Chariots of Fire'
Arthur Wood - The Archers Theme
Winifred Atwell - 'Black and White Rag'
Lionel Bart - 'Food Glorious Food'
Irwin Kostal, Richard Sherman, Robert Sherman - 'Bedknobs and Broomsticks'
Colin Tully - Gregory's Girl Theme
William Pitt - 'City Lights'
Led Zeppelin - 'Trampled Under Foot'
The Specials - 'A Message to You Rudy'
Captain Algernon Drummond/William Johnson Cory - 'Eton Boating Song'