"I was lying underneath him just crying with laughter," says Emily Blunt as we sit in a London hotel room discussing fake orgasms.
She's talking about the hilariously awkward scene in her latest film, The Five-Year Engagement, where her on-screen fiance, Jason Segel, tries to have sex with her after hearing some very bad news.
Blunt laughs: "Every time he'd change it, so each fake orgasm came with a different sound or a different facial expression. It was that dreadful anticipation each time of not knowing what he was going to do next. I was in tears… he did like 12 takes, it was ghastly. He has a real repertoire for fake orgasms."
"Is that from experience?" I ask. "It must be, right?" the Golden-Globe winner and Devil Wears Prada star jokes.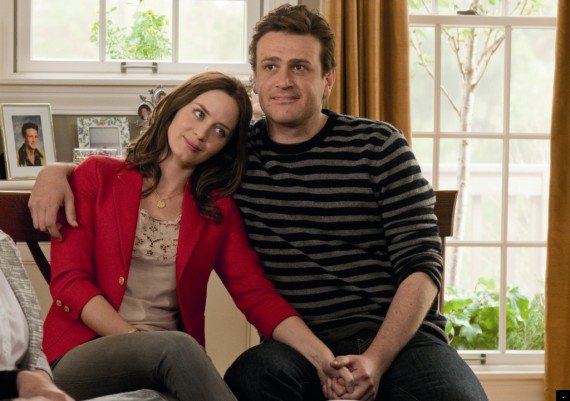 Emily Blunt is one of the current crop of British stars carving up a storm in Hollywood
British actress Blunt isn't usually seen in rom-coms - which she says are "something you've got to be careful with" - and when producer Judd Apatow (Bridesmaids, Knocked Up) previously tried to snare her for projects she turned him down, so why did she say yes to The Five-Year Engagement?
"I think it was just the right time and it was the right part. I really wanted to work in that style of comedy, very improv-based comedy, because I think that's where you get between two people the best most natural, most true-to-life depiction of what a relationship actually is and it gives a sort of messiness that's true to love.
"This film didn't have the same sort of glossiness that most romantic comedies have, where it's some dreadful premise."
In the film Blunt plays Violet, an academic who goes after her dream job. The problem is she's just got engaged to a chef named Tom (Segel). The story looks at what happens when this seemingly perfect couple keep getting tripped up on the long walk down the aisle.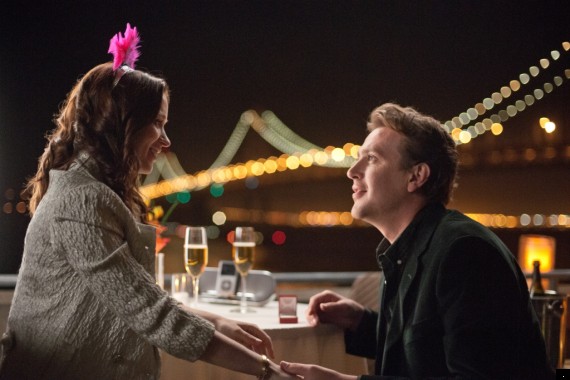 Emily Blunt with co-star Jason Segel, who made her "cry with laughter"
"If it had been the other way round and the woman was the one making the sacrifice, then people wouldn't kick up such a fuss, but I remember when I started to do press for this film people would say 'God, Violet's so selfish,'" says a fiery Blunt.
Equality is a topic that comes up twice in our interview. The Adjustment Bureau star - who made it down the aisle almost two years ago to wed (US version)The Office's John Krasinski - asks: "Why not have it all? You can have it all, you can flourish and have your dream job and you can get married. It's a struggle but that's all part of the fun. I think it's about time there was more equality and men just have to be OK with it. Male egos just have to get on with it."
And when I ask her what she thinks about people saying women can't be funny in films, she cries, "Oh give me a break!" before adding: "We're not given parts where we are allowed to be.
"You're usually given the little lady at home who is kind of a square and you're enabling the guy to run around and save the world being hilarious.
"It's great Bridesmaids happened… I think Hollywood had this preconception that only funny men get bums on seats and that theory has kind of been shattered."
Blunt's obviously enjoyed her foray into comedy and she admits she'd like to do more but "doesn't quite know when," adding: "I don't know if I'm going to rush into another romantic comedy, but I'd like something else with a comedic element. I think that type of genre can get quite fatigued."
Proving her diversity as an actress, Blunt gives me a hint of her next film, starring alongside Bruce Willis and Joseph Gordon-Levitt.
It's a far cry from the overpopulated rom-com genre: "I'm really excited about Looper coming out in September, it's a futuristic thriller and the coolest movie I've ever done.
"I'm really lucky to be in it. I play Sarah who lives on a farm and she gets embroiled in all of the time travel mess that goes on in the movie, I can't say too much about it."
The Five-Year Engagement is in cinemas 22 June.