Relatives of newspaper seller Ian Tomlinson broke down in court ton Tuesday as film footage of his final hours of life was shown.
The 47-year-old's widow Julia and stepson Paul King cried as a film clip was played of a medical student trying to save Tomlinson as he lay on the pavement with his eyes closed.
He collapsed minutes after being hit with a police baton and shoved to the ground by PC Simon Harwood during the G20 protests in the City of London in April 2009.
Today jurors were shown footage of Harwood, 45, adopting a "strike" position with his baton as Tomlinson stood with his back to him.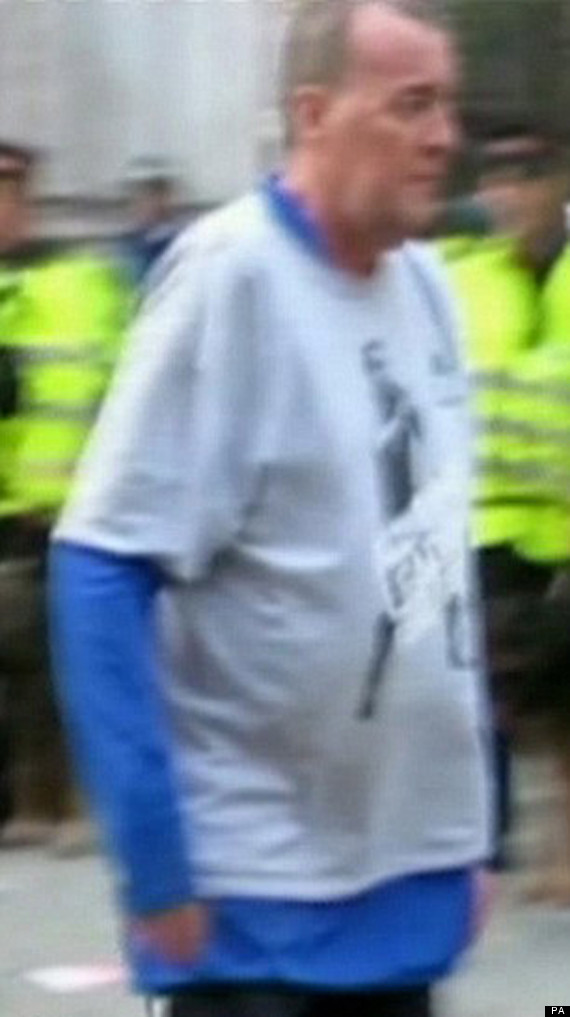 Footage of Ian Tomlinson
The footage showed Harwood among a group including dog handlers and officers in riot gear, pushing Tomlinson to the ground. He was seen wearing a balaclava covering the lower half of his face as well as a riot helmet.
Tomlinson, wearing tracksuit bottoms with a t-shirt over a long-sleeved top, was facing away from the group when he was pushed.
A passer-by helped Tomlinson, 47, back to his feet, and he was then seen walking away. Southwark Crown Court heard yesterday that he walked around 70 metres before collapsing, and died in hospital around an hour later.
Harwood, from Carshalton in Surrey, is accused of manslaughter, which he denies on the grounds that he used reasonable force.
Prosecutor Mark Dennis QC first played a series of short clips, showing the area around Cornhill with protesters shouting and chanting, and the interaction between Harwood and Tomlinson.
Jurors were then played more detailed footage tracing Tomlinson's movements before he was hit. He approached one police cordon near Bank but was turned back, and continued walking around trying to find a route home to Smithfield.
Various cameras captured the moment near the Royal Exchange Buildings when he was hit to the ground, around 7.25pm. He managed to walk around 77 yards (70m) before collapsing, and died later in hospital.
Clips detailing Harwood's movements were then played. He was tasked with driving a police carrier and monitoring radios that day.
Footage posted on the internet showed his unsuccessful attempt to arrest a protester who was writing "all cops are bastards" on the side of a carrier. The man managed to wriggle free, leaving Harwood holding his jacket, the court heard. In at times heated scenes, protesters were heard shouting and blowing whistles, with one blowing some kind of trumpet in police officers' faces.
Harwood was seen with other officers running into a passageway near the Royal Exchange Buildings. A member of the public is pushed out of the way as the officers advance.
Comments have been closed for legal reasons.