They both might be multi-millionaires, but the way Kim Kardashian and Kanye West are carrying on, they'll end up the same way as Westlife's Shane Filan with their spending habits if they're not careful.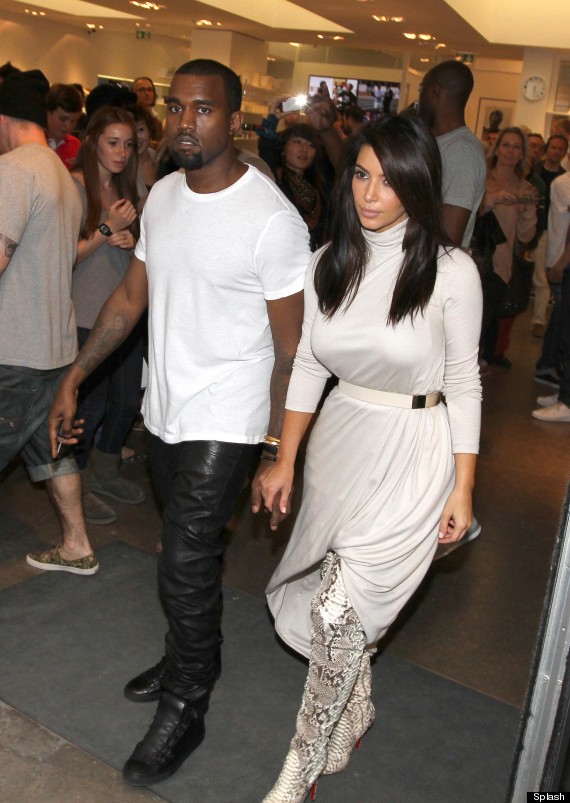 The loved-up couple went on yet another shopping spree yesterday in Paris, where Kim was sporting a pair of thigh-high snakeskin boots. Classy. They were spotted in and out of shops in the designer district of the French capital, using Kanye's £400,000 white Lamborghini - a birthday gift from Kim - to get around in. But one thing they won't be looking for is wedding rings, as rumour has it Kanye is already designing a rock with the help of Kim's sisters Kourtney and Khloe.
A source told Closer magazine: "Kanye asked Kim's mum Kris for ring advice, but she told him to go to her sisters Khloé and Kourtney, as Kim's told them she wants something very different to her last ring. Kanye has a New York jewellery designer and they've been talking ideas."
The insider added: "When she married Kris, she knew deep down it wasn't right, but she says she knows she wants to spend the rest of her life with Kanye and thinks he feels the same. She wants kids soon and they're both traditional, so marriage seems a natural step."
Kim has been opening up about her doomed 72-day marriage to Kris during an interview with Oprah Winfrey.
The socialite admitted being married to the basketball player left her "bored".
"I think when people first meet, everything is great in the beginning, but I didn't spend more than a whole week with my ex before we married," she said.
"When we moved in together, I saw how our relationship was... I don't want to get into the small things, but once we moved in, I knew he was not the one."
> IN PICS: KIM'S STYLE EVOLUTION
Kim Kardashian Style Evolution