Joe Lo Truglio is a seasoned performer on stage and screen. But playing a nudist in Wanderlust, starring Jennifer Aniston and Paul Rudd, required fresh skills. Here, he talks to Huffington Post UK about reuniting with Paul Rudd, his biggest screen influences and having to strip off for the camera...
How did working on Wanderlust compare to your other films – was it good fun?
It was a wonderful experience! I was working with a few of the people I had worked with several times before: David Wain, Ken Marino, Kerri Kenney and Paul Rudd of course. And it was also great to work with Justin, Jennifer and Kathryn Hahn. It was great; we had a blast in Georgia! It was a bit like going to a day camp, a group of friends making a silly movie about hippies in the woods!
Which scene did you enjoy making the most?
Probably the first scene where my character Wayne appears and scares the bejesus out of Paul and Jennifer. It's always fun to run naked with a gigantic prosthetic penis after a car that's backing up very fast! It was miraculous that I didn't get any bug bites or poison ivy the entire time I was in the woods despite the fact that I had barely had any clothes on!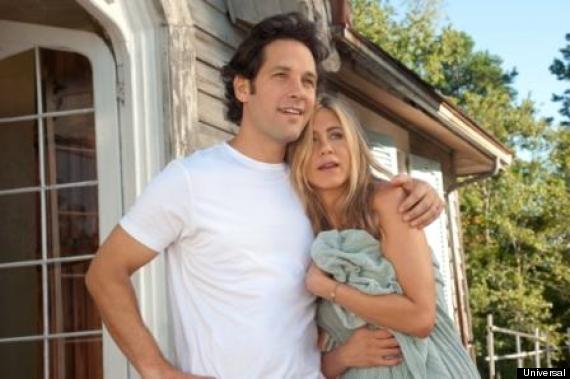 Paul Rudd and Jennifer Aniston in Wanderlust
So did you not get embarrassed playing a nudist?
No it was quite liberating! It was really like wearing a very strange fleshy bikini! It was like being on a weird beach in Europe somewhere just wearing Speedos with a gigantic prosthetic penis in front!
You have worked with David Wain a few times before, is he one of your favourite directors to work with?
He is fantastic director for a number of reasons. He remains very calm despite any possible production problems that may arise, as they often do, but more importantly he is very much a collaborator and hires people that he has faith in. He lets them do what they do best - and that's always a terrific quality to have in a director.
So you get a lot of freedom on set?
Very much. Well often we'll get [given] what's on the page just to make sure we have that, and then the fun really begins when we're able to go off that and really try and get the best laughs out of each other!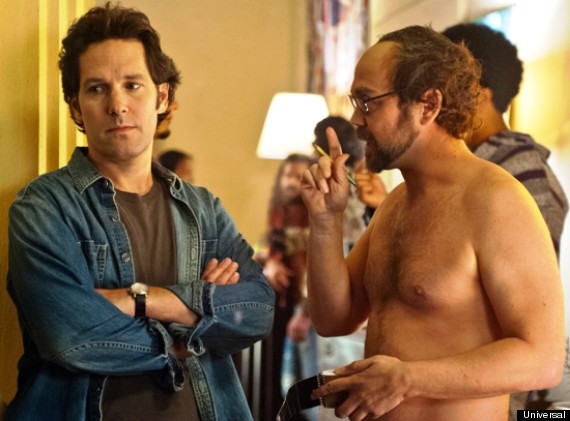 Not everyone is as comfortable with the nudity as Joe Le Truglio (right, with Paul Rudd)
So what made you want to become an actor originally?
I've always liked to perform for my family. I'm Irish-Italian and I come from a very loud and performance-orientated family, so I think it began there. Before acting I'd always been interested in movies, specifically horror movies, and my love for the business came out of my love for movies. I'd always done the performance aspect as a kid, but I'd never really set out saying "I want to be an actor" it was more that I wanted to be in the movies. It all began in the living room of family gatherings.
Is there a specific film that had influenced you?
Yes, it's not all that original but Jaws was a significant influence on my desire to be in the movies. It was just the first movie that brought the fear out of me that I wanted to know how they can manipulate that out, so I became very interested in the craft of movie making then. So Jaws certainly. As far as comedies go, Dr Strangelove was a big influence and Willy Wonka and the Chocolate Factory actually was of great influence to me. Gene Wilder was a big influence for me.
You worked with Paul Rudd on Role Models, was it fun to work with him again? Did you find the experience any different from before?
No, I found it very similar. I met Paul first about 10 or 11 years ago working on Hot Wet American Summer and we remained great friends. We've gone on several man dates that involve karaoke as well as many poker games - to this day we still play with the same group of friends. Working with Paul truly is like working with a buddy you'd have a few drinks with, literally. And compared to Wanderlust, it only was a little bit crazier than Role Models because I was naked the whole time! So you're with your buddy naked trying to make him laugh – that's how it was mainly different!
Are you working on any other projects right now?
Right now I'm writing a horror comedy with Kim Moreno. I'm also doing an independent film called Claire's Cambodia which starts shooting in LA in about a month. So at the moment writing and smaller projects, and of course hopefully some bigger ones in the future.
Wanderlust is available to buy on Blu-ray and DVD on 25 June from Universal Pictures UK Here's the trailer...