A television fitness trainer who had battled drink and drug problems revealed how her "heart was broken, her spirit was broken" before leaping to her death from Beachy Head, an inquest heard on Thursday.
Angie Dowds, from ITV's weight-loss challenge show The Biggest Loser, also told her girlfriend in text messages that she would be "in peace soon" before jumping from the suicide spot.
Witnesses reported seeing her "walking purposely" towards the cliff edge near Eastbourne, East Sussex, before disappearing over a sheer drop just after 4.30pm on November 20 last year.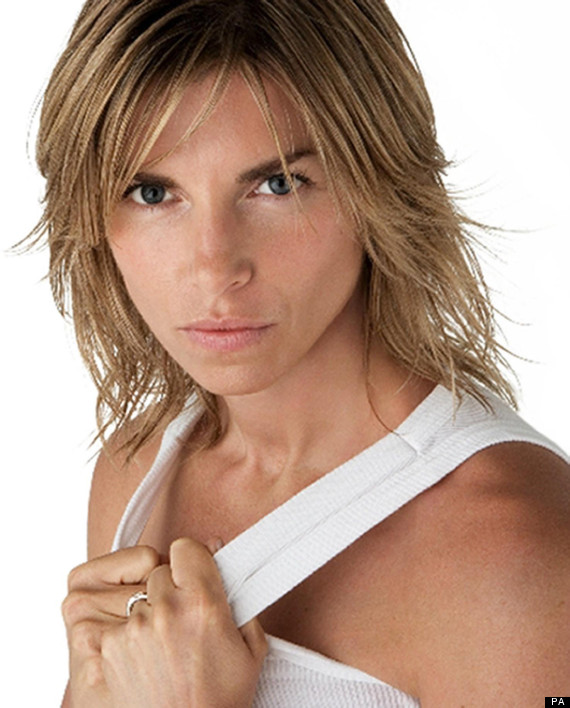 The inquest, at Eastbourne Magistrates' Court, heard the tough-talking 42-year-old had a long history of alcohol and drug problems, and had spoken before about ending her life.
Recording a verdict of suicide, the coroner said she was satisfied that although Miss Dowds had alcohol and diazepam in her system, her intention to kill herself was clear.
Miss Dowds' girlfriend, Edwina Benson, broke down as she described in partial detail the text exchanges she had with her on the afternoon of her death.
Ms Benson, an administrator at a primary school who had known Miss Dowds since May 2011, said: "She just said that her heart was broken, her spirit was broken."
In another text message, Miss Dowds also told her: "On your head be it."
She added that although Miss Dowds had spoken to her about committing suicide in the past, she did not think she would follow it through.
Miss Dowds' brother, Kevin Dowds, also gave an insight into her troubles, saying how shocked he was to see the toll alcohol had taken on her when he last saw her the weekend before her death.
He said: "I could see the effect of her drinking but at the same time I felt a sense of optimism that she was going to let go of her career and just get well."
She confided in him that things were "wonky in her domestic world" and that she had expressed concern about where she was going to live.
Then two days before her death, they spoke on the phone and Miss Dowds told him she had "had enough" and that "I want to go to God".
He said: "I didn't know what to say to her apart from expressing that I didn't want her to do that and that I'd come and get her, but she didn't want me to do that.
"When Angie was in those states, it could be very volatile and dramatic. I had experiences with Angie which were bad but two days later it was like it never happened."
Details of her troubled state were disclosed when she was found on the A20 last August by police saying she wanted to run in front of cars and "end it all".
She had at various times been admitted to hospital and received help from mental health professionals, as well as Alcoholics Anonymous, but her problems continued.
The inquest was also told that Miss Dowds had 129mg of alcohol in 100ml of blood at the time of her death. The legal drink-drive limit is 80mg.
Pathologist Dr Hassan El Teraifi said that although the alcohol level was not high, combined with more than double the therapeutic level of diazepam, she may have been in a "toxic state".
Her GP, Dr Helen Eakin, said Miss Dowds, who lived in north London, went missing in May last year but was found.
She had also been under "increasing pressure" as a new television series she was involved in was due to start in three months.
Dr Eakin said in a statement: "It seems she had a long history of problems with alcohol and drug misuse." In January last year, she was referred to a mental health team from accident and emergency following a drugs overdose.
At one point, she said she wanted to kill herself "to punish people". At Beachy Head, no suicide note was found but identity was confirmed after a passport was found in her trouser pocket.
The Coastguard was called to retrieve her body from the beach and a post-mortem examination confirmed death was caused by multiple injuries.
Witness Ivana Belenoua, from Sutton, Surrey, said she saw Miss Dowds jog towards the cliff edge before stopping. She then took a small jump off the cliff-top.
In a statement, she said: "We could see it was a clear drop and so this figure must have jumped off." Another witness, Brendan Murphy, said they were no ledges on the cliff face to help break her fall.
The inquest also heard that her handbag was found which contained a can of ready-mixed gin and tonic, and part of her mobile phone was also discovered.
Coroner's officer Karen Brown said that texts sent from the phone of Miss Dowds - who had appeared on The Biggest Loser along with host Davina McCall since 2005 - showed an intention to kill herself.
Assistant deputy East Sussex coroner Catherine Palmer said: "I find from the evidence from the GP that Angie did have health problems, that she did have an alcohol dependency and attempts at rehabilitation had failed, and that she had expressed suicidal idealisations but confirmed she did not intend to act on them.
"I also find that at times she could be difficult and that there were times when she failed to engage with the mental health services, and that Angie had expressed a desire to kill herself."
She added: "I do find that from the text messages sent to Ms Benson on the afternoon of November 20, that she did express an intention to take her own life and she travelled to Beachy Head to do that.
"Although she had taken alcohol and diazepam, she was quite accustomed to both and despite taking both her intentions were clear.
"I'm satisfied that Angie did commit suicide and in reaching that decision I have to be satisfied beyond all reasonable doubt.
"I don't believe that Angie accidentally fell from the cliffs, but took a step off the cliff deliberately."