The Devils Wear Prada star Emily Blunt has revealed she might be interested in revising her role as Miranda Priestly's catty assistant Emily Charlton in a sequel to the hit comedy-drama, but only if she's not forced to lose weight.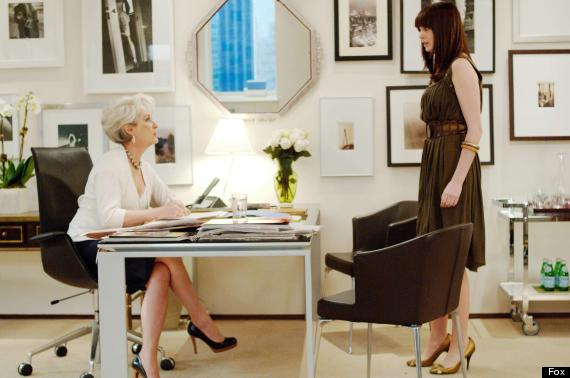 Emily Blunt and Meryl Streep in The Devil Wears Prada
Speaking to The Huffington Post UK about rumours that Meryl Streep, who played cut-throat fashion magazine editor Priestly, is going to sign up for a sequel, Blunt said: "What Meryl said was she'd do it if she didn't have to lose the f***ing weight, that was her quote.
"And I'd probably say the same because they made me lose weight for that. I was playing that character who was on the edge of ill thin just desperately trying to maintain her weight."
However, she added: "I feel with sequels you can be in tricky territory because that movie was so special and cool, so we'll see if everyone else wants to do it."
READ: Emily Blunt on her 'The Five-Year Engagement' co-star Jason Segel: 'He has a real repertoire for fake orgasms'
Author of The Devil Wears Prada Lauren Weisberger, which the film was adapted from, announced that she was working on a sequel to her best seller - titled Revenge Wears Prada - recently. However, progress on the book is said to be moving at a glacial pace. Emily Blunt at The Devil Wears Prada premiere in 2006
In the meantime, Blunt is pretty busy. Her latest film, The Five-Year Engagement, is currently in cinemas and her next film, starring alongside Bruce Willis and Joseph Gordon-Levitt, is in post-production.
She told us: "I'm really excited about Looper coming out in September, it's a futuristic thriller and the coolest movie I've ever done.
"I'm really lucky to be in it. I play Sarah who lives on a farm and she gets embroiled in all of the time travel mess that goes on in the movie, I can't say too much about it."