A Victorian vampire-slaying kit has sold at auction for £7,500.
There were bids a-plenty for the bloodthirsty box, according to auctioneers in North Yorkshire. Buyers were intrigued by the contents of the carved wooden chest, inside which nestled every piece of equipment a Transylvanian tourist could need.
Along with small bottle of Holy Water lay a crucifix, wooden stakes with a mallet, and a copy of the Book of Common Prayer. There could also be found rosary beads and garlic (every vampire's worst nightmare.)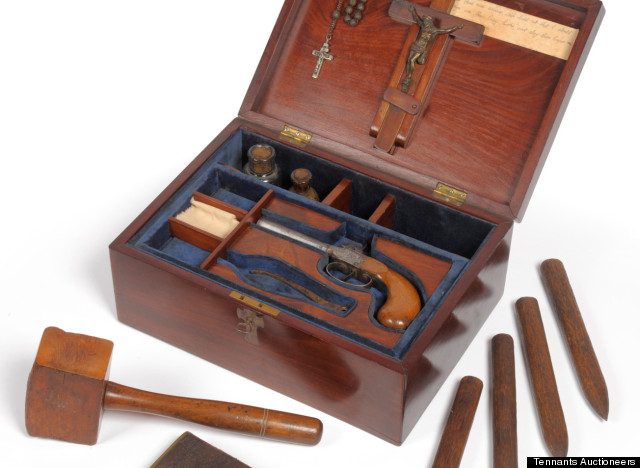 Lots at stake: the victorian vampire slaying kit
A handwritten extract from the Bible was also in the box, quoting a passage from Luke, which read: "But those mine enemies, which would not that I should reign over them, bring hither, and slay them before me."
According to the BBC, valuer Oonagh Drage said the kit had been put together in the late 1800s, when gothic novel Dracula was surging in popularity. Although such kits are relatively rare, auctioneers had only expected it to £1,500 and £2,000.
However Nigel Smith, from Tennants Auctioneers, of Leyburn in the Yorkshire Dales, said he believed the kit - sold by a Yorkshire woman who inherited it from an uncle - was now heading for a museum.