A lavishly decorated sword and scabbard presented to Edward VII by an Indian Maharajah to mark his coronation will be one of the star attractions of an exhibition of royal diamonds.
Set with 719 diamonds and weighing a total of 2,000 carats the ceremonial weapon was a gift in 1902 from Sawai Sir Madho Singh Bahadur, Maharajah of Jaipur.
The sword is part of a dazzling exhibition of royal gems being staged to mark the Queen's 60-year reign, and featuring jewellery made from the world's largest diamond.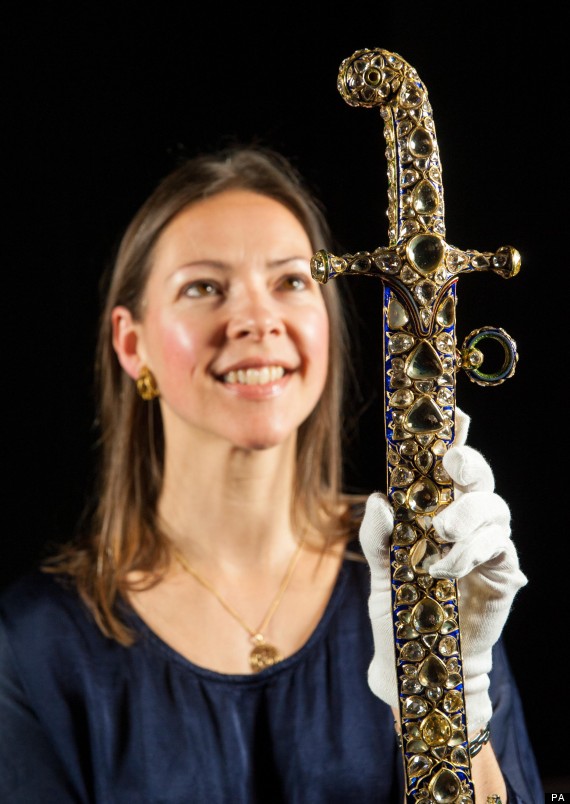 The sword was presented to Edward VII by an Indian Maharajah
The major display, organised by the Royal Collection, will reunite for the first time seven of the nine principal stones cut from the Cullinan Diamond.
The gems are set in brooches, a ring and a necklace, many of which have been worn by the Queen throughout her reign, with the remaining two stones forming part of the Crown Jewels.
The exhibition, which will be the focal point of Buckingham Palace's 2012 summer opening, will also include an unprecedented display of some of the Sovereign's personal jewels.
The weapon and its scabbard are made of gold, enamelled in blue, green and red and set with rose-cut, brilliant-cut and Indian lasque stones - flat, unfaceted diamonds - which vary in colour from white to yellow and are set in a stylised design of lotus flowers and leaves.
An ornate ostrich feather fan decorated with rose cut diamonds and made for Queen Alexandra, Edward VII's wife, is also part of the exhibition.
One of the oldest items on display is the 18th century table snuff box of Frederick the Great of Prussia.
It is encrusted with almost 3,000 diamonds and backed with delicately coloured foils in shades of pink and yellow on each of its six sides.
Frederick William III of Prussia is thought to have later inherited the box and passed it on to his daughter, Tsarina Alexandra Feodorovna, consort of Tsar Nicholas I, who in turn left it to her descendants.
It was listed in the 1922 inventory of personal belongings of the imperial family confiscated by the Soviet authorities in 1917, a year before the Russian royals were executed.
It later came to England and was sold twice through the auction house Christie's before being purchased by Queen Mary, the Queen's grandmother, in 1932.
Exhibition curator Caroline de Guitaut said: "Today we often associate diamonds with women's jewellery. But these precious stones have been used to embellish many different objects over time.
"The jewelled Jaipur Sword - a gift from one ruler to another - is an example of how diamonds have been used to symbolise strength and masculinity.
"The snuff box of Frederick the Great is another typically masculine item. This exquisite box has been chosen for the exhibition to show the ingenious pattern upon it, which is picked out in 3,000 diamonds.
"Meanwhile, the Coronation Fan shows a more feminine use of jewels for decorative effect.
"This beautiful object, made for Queen Alexandra, is part of a long historic tradition - there is even a portrait of Elizabeth I holding a jewelled ostrich fan."
The Diamonds: A Jubilee Celebration
The Diamonds: A Jubilee Celebration exhibition will be held from 30 June to 8 July and from 31 July to 7 October.