She's a role model for working mums, but Victoria Beckham was forced to cut short her time at the launch of the Spice Girls' new musical on Tuesday so she could get back to baby Harper in Los Angeles before bedtime.
The designer joined her bandmates Melanie Chisholm, Emma Bunton, Geri Halliwell and Melanie Brown at the St. Pancras Renaissance Hotel to announce plans for their upcoming stage show Viva Forever.
The spectacular will feature 18 Spice Girls songs when it opens at the West End's Piccadilly Theatre in December, and the girls - minus pouting Posh Spice - were all smiles as they launched the production, which will reportedly net them £5m each.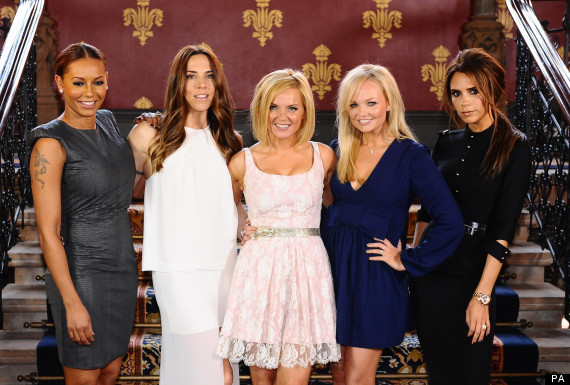 The Spice Girls found their way back to the staircase where they filmed their original Wannabe video during the promotion
But while Scary, Sporty, Baby and Ginger were happy to hang around at the event, Victoria left after just an hour so she could get on a flight to America and back to her baby girl. Victoria seen arriving back in LA in the early hours
She told The Mirror: "I'd love to stay and hang out with the girls but I'm desperate to see her before she goes to bed. I have to race home for bedtime."
And speaking to The Sun, she added: "It's worth making the trip because I think the show will be something to be proud of."
Victoria is sure to be busy in the coming weeks - little Harper will celebrate her first birthday on 10 July, and Closer this week claimed that Posh and her husband David are planning a big bash to mark the milestone.
A source told the magazine, "There are no half measures in Hollywood - Victoria is pulling out the stops. It's going to be an A-list event.
"She's spending around £50,000. The garden will be filled with big pink cuddly toys, pony rides, a bouncy castle, balloons and tons of cupcakes. It'll be totally pink. It sounds odd, but she's even hiring specially dyed pink rabbits!
"They haven't had a house party since they got their Beverly Hills mansion totally renovated, so they wanted a big celebration to show that off too.
The guests will be all the Hollywood parents and kids - Victoria often has play dates with other celeb mums such as Selma Blair and Nicole Richie.
"And obviously Posh's best friend, Harper's godmother Eva Longoria, will be there. Harper will get some amazing gifts."
Lucky girl!