Funnyman Ricky Gervais was delighted when his pilot for Derek won a Hollywood award earlier this month, calling the honour more thrilling than his previous Golden Globe and Emmy wins.
The British comic's first episode about a care home worker received mixed reactions after its April debut, with some critics accusing Gervais of making fun of those with learning difficulties.
Gervais, who plays the title role, felt redeemed when Derek was named Best Comedy at the New York International Short Film Festival, and admits his latest accolade was his more satisfying than those he received for The Office and Extras.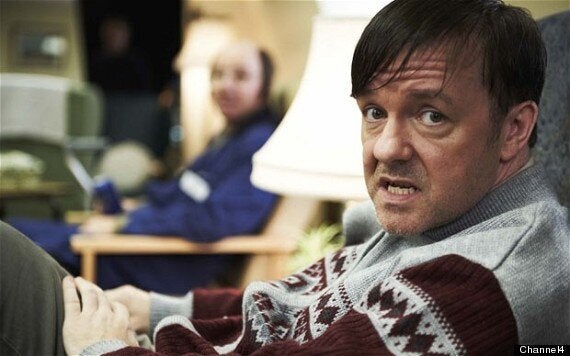 Gervais plays Derek, with Karl Pilkington as his colleague and landlord
He tells Britain's Metro, "I've never been so excited about an award - more than the Globes, Emmys and Baftas. I love the character - he's so uncomplicated and has such a good heart and it was bit of affirmation following the response from people who were critical of the show before they'd even seen it.
"Derek is an absolute joy to write because I've left the veil of irony behind. The characters in Derek are the people you see every day on the margins of society. A bunch of strange people who are thrown together but always try to do the right thing. Derek says: 'I'm not intelligent or good-looking but I'm kind.' Derek is us before we lost our innocence and adopted a 'What's in it for me?' attitude."