Thousands of service personnel and their families applauded as an Iraq War veteran holding the highest military honour for valour carried the Olympic Torch through the UK's centre of remembrance on Saturday to mark Armed Forces Day.
Around 6,000 people waving Union flags cheered as Victoria Cross winner Lance Corporal Johnson Beharry carried the flame up the steps of the National Memorial Arboretum in Staffordshire, pausing to salute his comrades.
Speaking afterwards, L/Cpl Beharry said it had been an "emotional" experience.
He said: "It was very emotional (carrying the torch) because of the reason why I am here - to see the turnout is amazing and being here on Armed Forces Day as well.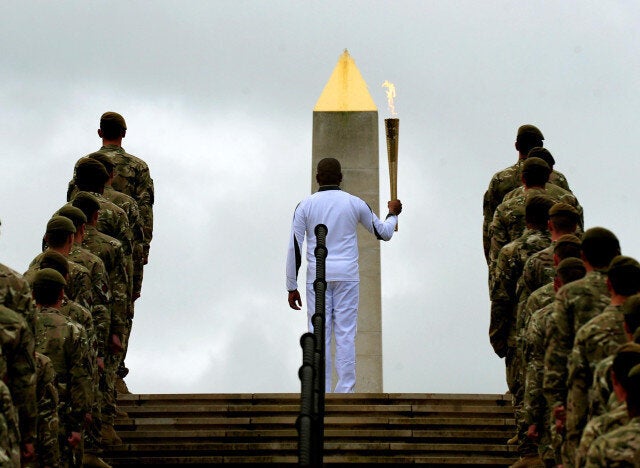 L/Cpl Johnson Beharry VC carried the flames up the National Memorial Arboretum steps
"Armed Forces Day is important to see the general public is behind us and support us for what we do."
He also said he hoped to be going along to watch a few events at the Olympics.
L/Cpl Beharry won the Victoria Cross in 2004, becoming the first living recipient of the decoration since 1969.
The Caribbean-born hero earned the honour for saving the lives of 30 comrades by charging down an ambush and has since overcome terrible wounds to continue his military career.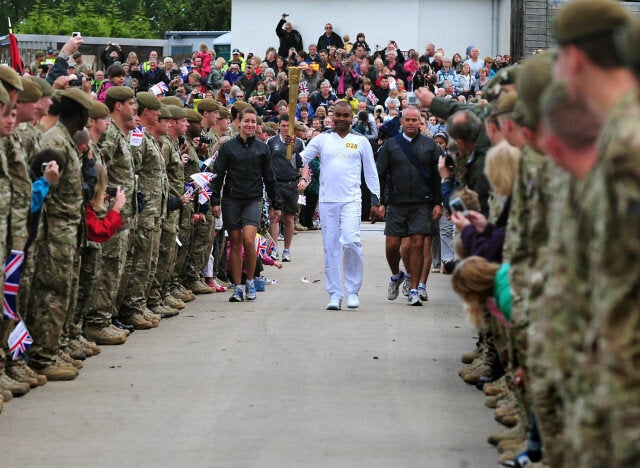 Crowds gathered to see L/Cpl Beharry carry the torch through the Arboretum
As he carried the torch up to the memorial today, 30,000 poppies were dropped on the crowd by a paraglider flown by Major Alastair Macartney from Jump4Heroes, a charity which helps the Armed Forces as part of the Royal British Legion.
L/Cpl Beharry is one of more than 30 torchbearers who will carry the Olympic flame on Saturday.
It started its journey in Derby this morning and passed through Burton on its way to the the National Memorial Arboretum.