The hawk that patrols Wimbledon to deter pigeons has been stolen, police said.
Detectives are investigating the theft of Harris Hawk Rufus, who was stolen along with his cage overnight between Thursday and Friday from a car parked in Wimbledon.
A spokesman said Rufus was in the car parked on a private drive in Dunstall Road with the rear window open for ventilation.
The hawk, which deters pigeons at the All England Club purely by his presence, is also a family pet, he said.
"The family has become very attached to the bird who is now four-and-a-half years old.
"They are distressed over the theft and are appealing for help to recover the bird."
Within hours of the hawk's disappearance, the hash tag #FindRufus began trending on Twitter.
Well-wishers on the social network posted messages on the hawk's Twitter profile, @RufusTheHawk.
Rufus has become a well-known fixture at the south-west London club, with visitors often stopping to ask for photos with the hawk.
Owner Imogen Davis, 25, said they were still in shock after Rufus' disappearance.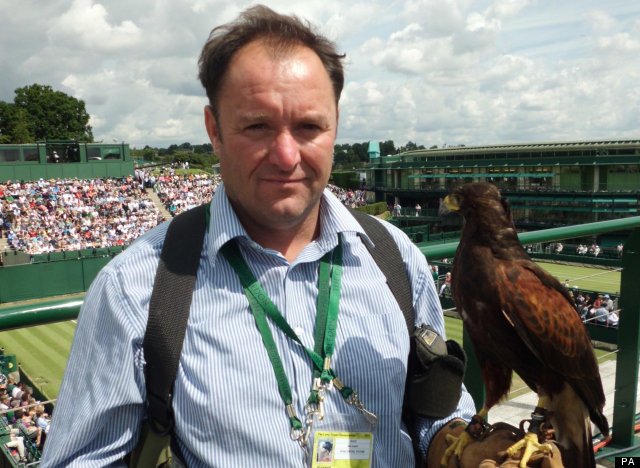 The young hawk and his keeper, Wayne Davis
Ms Davis said she originally thought it was a prank, but was not sure as a falconry glove and falconry hood were stolen at the same time.
"It's really, really sad," she said. "He was taken in his travelling box, which is where he sleeps because it's nice and dark and cool and he can fall asleep in there.
"We're very, very shocked, we just want to know he's okay."
Rufus is a Harris Hawk, an American species. Hawking was first introduced to the All England Club in 1999 as an environmentally-friendly method of pest control.
Pigeons are not the Harris Hawk's natural prey, and they are trained not to attack but to circle and fly around the courts to scare the birds.
Rufus is flown each morning and evening of the championships before and after play, but not during, so as to avoid any distraction.