In the wealth of cop dramas we've been fed over the last few years, it does seem that the Americans have taken all the top honours – The Shield being the latest to garner high praise, and the incomparable The Wire previously setting the bar.
So it was with a heavy heart I tuned in for Line of Duty to watch the Brits try to compete. But… instead of trying to match these labyrinthine tales, the BBC wisely decided to concentrate on a single-stranded tale, and tell it impeccably.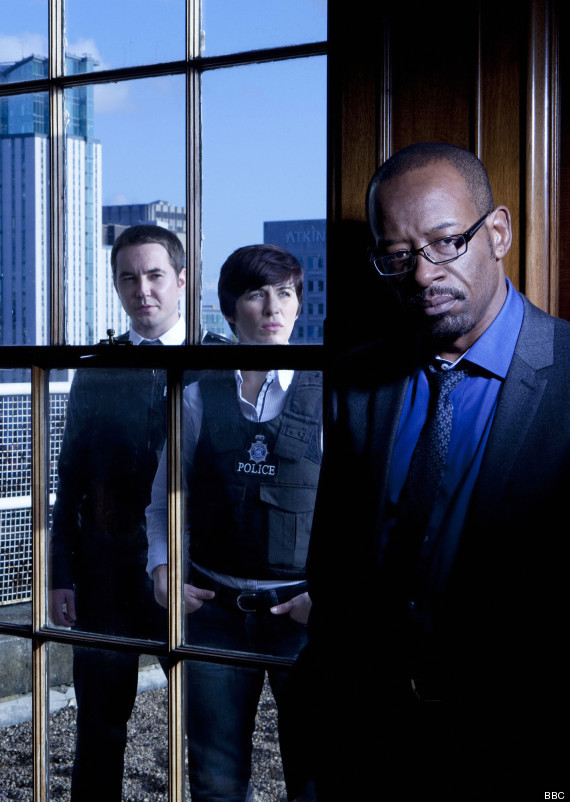 Martin Compston, Vicky McClure and Lennie James in Line of Duty
This is in an intelligent drama that requires its audience's attention, and the biggest credit to the writers, and the actors, is that it hardly matters that Gates is black.
His totemic significance to the force in a post-Lawrence era is acknowledged – "He's got to be twice as good to rise this far"… "So what are you saying, to be corrupt he's got to be twice as bad?"
This single exchange summed up the quality of the script. In a line, writer Jed Mercurio fearlessly acknowledged the double standards at play on the line of duty today, and then swiftly moved beyond any patronising stereotypes, simply by writing a cracking plot, with a charismatic and corrupt villain at its core, never mind his colour.
Anti-corruption units (ACU) always provide fine dramatic fare – because of the strange position these officers find themselves in. They are an essential part of the system, but they are employed to spy on their own, hence viewed with suspicion and contempt by their colleagues – like strike-breakers of the force.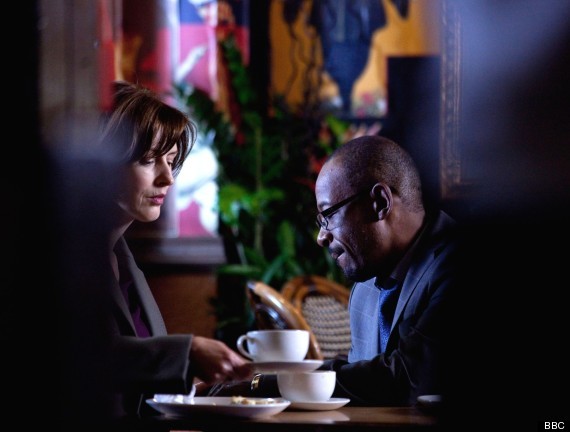 Gina McKee has a bit more work to do, to convince as Tony Gates' accident-prone mistress
Martin Compston as Arnott is the young, confused prism through which we saw all this. Having moved from firearms to ACU, his very first project was to check out the suspiciously fine case-closing figures of a senior officer, time and resources he thought could be better spent on fighting crime.
And it wasn't just any officer, either. DCI Gates (Lennie James) was an impressive figure – a smart-as-a-whip fast-tracked policeman, impeccably suited, designer-spectacled, worshipped by his team, admired by his ladies, including a mistress (a surprisingly irritating Gina McKee), who, within 10 minutes of the start, had committed a crime that Gates quickly covered up. As his Nemesis at the anti-corruption unit had correctly suspected, "No one's that good."
And we were off. In a perfectly-paced, twisting first episode, there were a handful of colourful moments - the uncovering of Vicky McClure's Fleming as a plant within Gates' team was inevitable in retrospect but still fun, and the race to secure the files of the covered-up crime – both Arnott's and Gates' hands hovering over their respective computer mouses (mice?) in parallel scenes – was executed with splinter-thin timing, a sign of well-placed directing confidence.
The series flies or falls, however, on our interest in DCI Gates, and the good news is Lennie James shone in this first episode - whether he was arresting a mugger, seducing his mistress, looking proudly at his children, or depositing unseemly packages on the car seats of potential enemies.
He wriggled around, hand on forehead, as the pigeons threatened to come home to roost - obviously a desperate man, dangerous when cornered, both devilishly charming and just devilish. Great stuff.
Line of Duty continues at 9pm on Tuesday BBC2. Pics below...