The GoCompare singing man, 'Gio Compario', is one of the most loved/hated advertising characters of recent memory.
His hilarious/unbearable singing and hammy acting has delighted/annoyed TV audiences since 2009 and now frustration has boiled over, leading to the new range of adverts being defaced mere hours after being posted on billboards.
Rather than serial vandalism across the UK, it appears that the new adverts are a cunning new scheme by the company which sees the company take a new line of self-deprecating humour.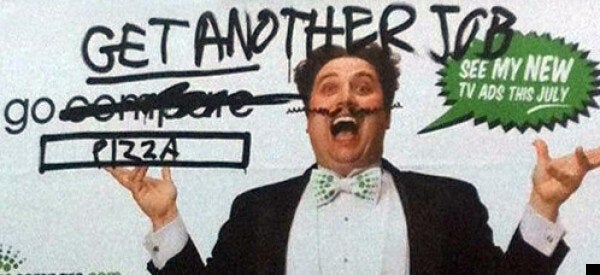 The new adverts will trick you at first glance
The billboards have been appearing across the country from the beginning of July and surely fooling plenty of passersby.
The man behind the moustache is Welsh opera singer Wynne Evans, who also presents on Welsh TV and radio as well as having a Number One-selling classical album in 2011.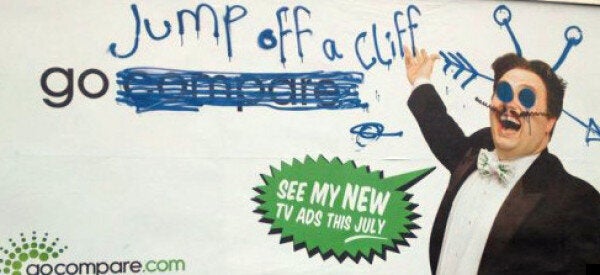 The Gio Compario character is one of the most divisive in advertising history
The best adverts are those that you remember - for good reasons or bad - which has made the Gio Compario campaign such an advertising success in its three years.
But what do you think of the new adverts? Do you think they're a clever idea or just another infuriating campaign bound to get on your nerves? Let us know in the comments below, and look through our slideshow on the most controversial adverts of all-time.