A two-year-old girl escaped a potentially fatal injury after a pencil pierced her eye socket and came within a millimetre of puncturing a major blood vessel in her brain.
Wren Bowell was getting ready for bed at home when she fell over and landed on a pencil she was carrying which then penetrated her right eye socket, narrowly missing her eyeball, before lodging 1.5in (3.8cm) into the front lobe of her brain.
The little girl, from Peasedown St John, near Bath, was rushed to Frenchay Hospital in Bristol where neurosurgeons operated on her for four hours, opening up her skull so that the pencil could be removed.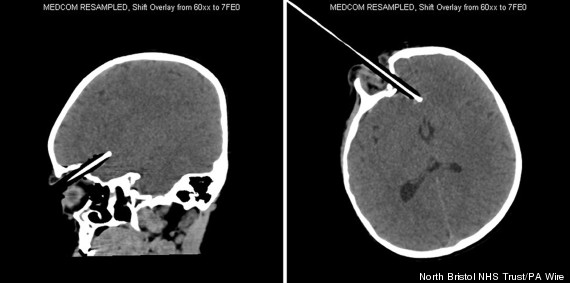 X-Rays showing a pencil that pierced the eye socket of Wren Bowell
The pencil had been lodged just a millimetre away from a major blood vessel.
Ian Pople, the consultant neurosurgeon who operated on her, said she had been "extremely lucky" as other people who suffered similar injuries had died or suffered permanent brain damage.
"A coloured pencil had perforated the skull just above the eyeball. It had gone through and created a fracture of the skull which had pushed the bone inwards.
"The pencil had become jammed in by the fractured bits of bone.
"The pencil had gone into the brain and was within a millimetre of one of the big vessels, one of the big arteries in the brain.
"It was extremely close to having damaged the blood vessel but fortunately she was very lucky and it had not burst the blood vessel, so she did not have a big amount of bleeding in the brain.
"We had to open up the skull first of all to get inside and then we removed bits of fractured bone to be able to pull out the pencil from the brain."
He added: "She is extremely lucky and we are very pleased that she has made such an excellent recovery.
"It is every parent's nightmare for a child to fall on something like this, it does happen from time to time but it is rare."
The accident took place in March but Wren was not released from hospital until early April.
The little girl's father, Martyn Bowell, 34, a model maker, told the Bristol Evening Post: "If anything happens to your child you are shocked.
"A broken bone would be bad enough, but something happening to the eye, head or brain is one of the worst things that could possibly go wrong."
Mr Bowell is raising money for Frenchay Hospital's children's unit by taking part in a charity bike ride with his brother-in-law Damien McCutcheon. Mr McCutcheon will be raising money for the brain injury charity Headway Bristol.