The captain of the ill-fated Costa Concordia, the cruise ship that ran aground off the coast of Italy in January, has been released from house arrest.
Despite facing charges of multiple manslaughter, causing the cruise liner to sink and abandoning ship, Italian judges decided to release Franscesco Schettino from the strict conditions imposed on him in January.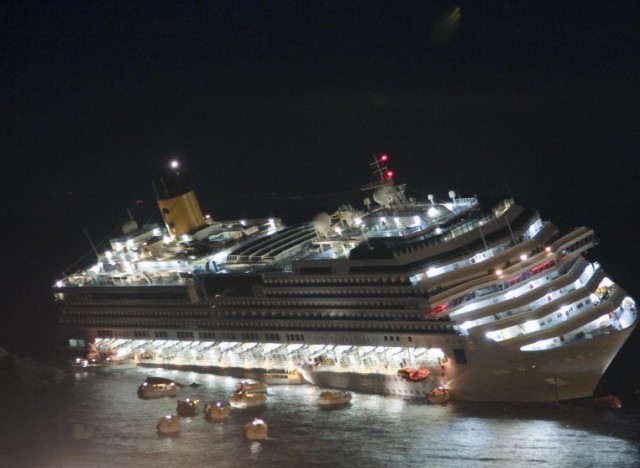 The Costa Concordia just hours after it struck rocks off the Italian island of Giglio
He will now be allowed to leave his house and have contact with people other than his immediate family and his lawyer. However he has been instructed to stay in his home town of Meta di Sorrento, near Naples, reports Reuters. Francesco Schettino was arrested and is awaiting trial
Paolo Bastianini, told AFP: "He is a free man. He could go to the seaside today, if he wants. But he won't," he added, telling the news agency he had instructed his client not to leave the house or talk to anyone else, despite the ban being lifted.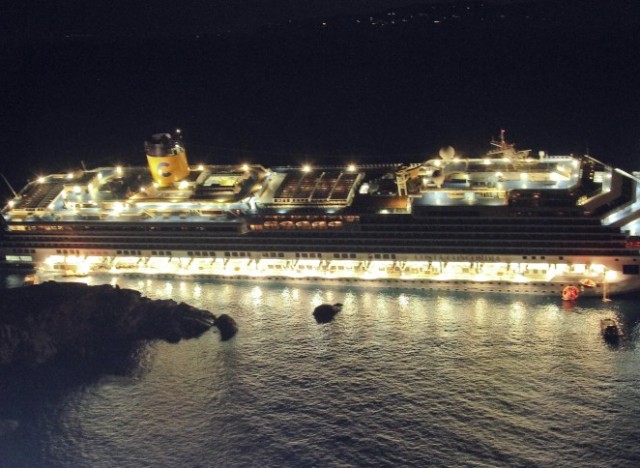 The cruise liner continues to list at a sharper angle, as more water enters the boat
Schettino is under investigation with eight others after the Costa Concordia capsized with 4,200 passengers and crew onboard. At least 30 people died in the accident and another two people are still missing and are believed to be dead. However judges ruled that the house arrest had already served as a sufficient deterrent to Schettino. The captain of the Costa Concordia cruise liner Francesco Schettino is escorted by an Italian policeman in Grosseto on 14 January
The timeline of events that took place the night the Costa Concordia sank are still unclear, with many blaming Schettino for sailing the ship too close to the island to make a "salute".
A pre-trial hearing was held in Florence in March, and a court hearing is due on 21 July when a probe of the ship's data recording "black box" will take place. However the latest reports suggest this information, so vital to determining Schettino's culpability, has gone missing.
There are also suggestions that watertight doors designed to prevent flooding, were left open on the night of the disaster.
The Costa Concordia can still be seen off the Tuscan island of Giglio.