The driver of the coach at the centre of the fake cigarette terror alert which brought the M6 toll to a standstill has described how he had no choice but to comply with armed police.
David Myerscough stepped in for an ill colleague on Thursday morning to drive the blue Megabus from Preston to London when a passenger called police and reported smoke coming from a fellow passenger's bag.
The 38-year-old father-of-two was called by his control room and told to pull the coach onto the hard shoulder at the M6 toll plaza near Lichfield, Staffordshire, and not to let anyone off.
"Once we pulled over, the police told me to make sure nobody left the bus under any circumstances," he said.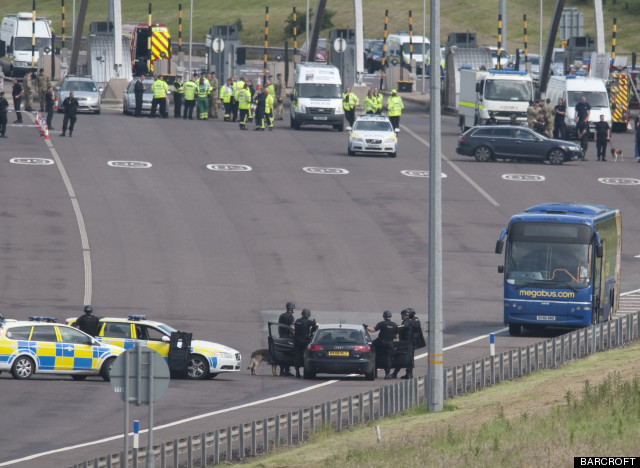 The bus was pulled over after a passenger reported suspicious activity by another person on board
"After a while, we realised that the road beside us had actually been closed and cars had stopped going past us."
Dozens of armed officers, troops, firefighters and bomb disposal experts all swooped on the scene, setting up decontamination units and makeshift pens on the carriageway.
Mr Myerscough, a stand-by driver based at the Preston depot, said that once the passengers saw the armed police, "they calmed down and realised that we were going to have to go with it".
"I was instructed to take the passengers off the bus one by one," he said.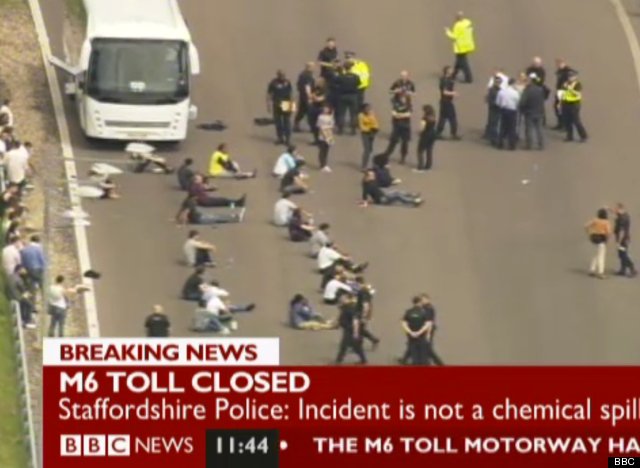 The passengers were separated and watched closely while the bus was searched
"I had to wait at the front of the bus until the armed police gave me the signal to bring the next passenger off, and I was to tell them not to put their hands in their pockets and just to walk out slowly.
"Once one passenger was off, I'd then get the next one.
He went on: "It was a scary thing for a lot of people and it was a very long and tiring day.
"We were all in it together and when you're faced with armed police you can't really do anything else other than follow their instructions.
"I was just doing my job and I wanted to do it well.
"I just followed the instructions I was given. Once the call is made to the police, they have to do their jobs. I'm glad everything turned out to be OK in the end."
"Once we were all off the bus we sat on the tarmac and nobody was allowed to use their phones."
READ MORE: